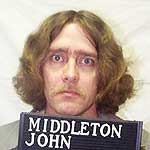 July 16, 2014  8:26 pm EDT
John C. Middleton was executed shortly after 7 pm CDT, on Wednesday, July 16, 2014, by the state of Missouri.  The execution was carried out at the Eastern Reception, Diagnostic, and Corrections Center in Bonne Terre, Missouri.  John was 54 years of age.  John was executed for the murder of Randy Hamilton and Stacey Hodge, which occurred on June 11, 1995, in Harrison County, Missouri.  John was also separately convicted of murdering Alfred Pinegar on June 23, 1995, also in Harrison County, Missouri.  John spent the last 18 years of his life in prison in Missouri.
John had medical problems at birth and received a head injury during his childhood.  John grew up in an abusive home and with a father who spent time in jail for burglary.  John's mother was an inhalant abuser, which, allegedly, resulted in John being cognitively impaired.  It was also alleged that his impaired cognitive abilities led John to begin using drugs.  John was exposed to drugs early in his childhood and became addicted.  John had previously spent time in prison in Iowa.  Prior to his prison term in Iowa, John worked as a farm laborer and was considered diligent and hardworking, although lacking the intellect to work on the business' computers.
John Middleton was a dealer and user of the drug methamphetamine.    On June 10, 1995, several drug dealers were arrested in Cainsville, Missouri, but Middleton was not among them.  Middleton was concerned that informants would turn him into the police as well.  Middleton told a friend later that afternoon that there were "some snitches that should be taken care of."  Middleton mentioned several names, including Randy "Happy" Hamilton.
The following day, Middleton, along with his girlfriend Maggie Hodges, met Randy and Randy's girlfriend Stacey Hodge on a gravel road.  Middleton shot Randy once in the back with an SKS rifle.  He also shot Stacey three times in the back.  Middleton killed Randy by shooting him in the head.  Maggie killed Stacey by shooting her in the head with another SKS rifle.  The bodies were placed in the trunk of Randy's car.  Middleton drove Randy's car, while Maggie drove the car in which they came.
While driving around looking for a place to dump the bodies, Middleton was spotted by a man named Danny Spurling.  Middleton was covered in blood.  He told Danny he had "taken care" of Randy and asked if Danny knew what to do with the bodies.  Middleton indicated that they were going to burn the bodies.  The following day, June 12, Middleton gave Danny the stereo from Randy's car and commented that "they were really going to freak out when they found those two."
On June 25, Middleton was discussing informants with John Thomas, when Thomas noticed a "stash box" belonging to Randy.  Middleton commented that "the guy who owned the box wouldn't be needing it no more."  Around the same time, Middleton confessed to yet another person, Dennis Rickert, that he killed "Happy."  Middleton later gave Dennis the gun he used to kill Randy, which Dennis later turned over to the police.
In late June 1995, Middleton was arrested for the murder of Alfred Pinegar, which occurred on June 23, 1995, between Bethany and Ridgeway, Missouri.  Middleton took Alfred from his home in Davis City, Iowa, went to a Wal-Mart store to buy ammunition, and drove to a field, where Middleton shot Alfred twice in the back and killed him by shooting him in the head.  Middleton then returned to the Wal-Mart store to return some ammunition.
Middleton was arrested a few days later.  The bodies of Randy and Stacey were found on July 10, 1995.  They were decomposing in the trunk of Randy's car, which had been abandoned in the woods.  The stereo was missing.  While awaiting trial, Middleton confessed to killing all Randy, Stacey, and Alfred to another inmate who then testified against him.
During his trial for the murder of Randy and Stacey, a neuropharmacologist testified that Middleton was suffering from delusions, hallucinations, and paranoia, all of which were caused by prolonged methamphetamine use.  Further, at the time of the crime, Middleton was suffering from the influence of extreme mental or emotional disturbance.
Middleton was convicted for the death of Alfred and Randy and Stacey.  He received a death sentence in each case.  Maggie received multiple life sentences, plus 10.
Middleton was previously scheduled to be executed in 2008, but he was granted a stay of execution after challenging the state's execution protocol as unconstitutional. 
Please pray for peace and healing for the families of Randy Hamilton, Stacey Hodge, and Alfred Pinegar.  Please pray for strength for the family of John Middleton.
Scroll