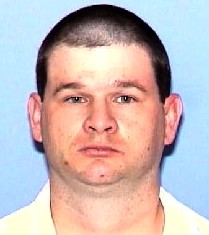 Update: Thursday, April 9, 2015  7:41 pm EDT
Kent William Sprouse has been executed by the state of Texas.  Read the full story here.
Update: Monday, April 6, 2015  9:33 am EDT
Kent William Sprouse's execution is scheduled to occur at 6 pm CDT, on Thursday, April 9, 2015, at the Walls Unit of the Huntsville State Penitentiary in Huntsville, Texas.  Forty-two-year-old Kent is convicted of murdering Pedro Moreno and 28-year-old Ferris Police Officer Harry Marvin "Marty" Steinfeldt III, on October 6, 2002, in Ferris, Texas.  Kent has spent the last 11 years of his life on Texas' death row.
Kent, originally from Boone, Missouri, had graduated from high school and worked as a welder, builder, and laborer prior to his arrest.  Kent's mother testified that he became paranoid in 2001, believing that the CIA and FBI were after him.  She had him committed to a mental institution for 72 hours in April or May of 2002.  After his release, she stated that his condition appeared to worsen.  Kent had also abused drugs for an extended period of time.  Kent did not have a prison record in Texas.
On October 6, 2002, Kent Sprouse stopped at a gas station and food mart in Ferris, Texas.  He was observed to be carrying a shotgun, which he later fired in the direction of the pay telephones, where two men were standing.  When approached by a bystander, Sprouse claimed the gun was not real.  Sprouse asked the man, Brad Carroll, to help him start his vehicle.  Brad initially agreed, but upon seeing boxes of gunshot in Sprouse's vehicle, Brad determined that the gun was real and left.  As he was leaving, he heard  another shot and observed Sprouse pointing his weapon at a man lying on the ground, bleeding.  Brad observed a police vehicle pull in as he was leaving and heard two more gunshots.
The first shot heard by Brad, struck Pedro Moreno, who was filling his vehicle with gas. Officer Harry Steinfeldt III, dressed in a police uniform and driving a police vehicle, responded to the shooting at the gas station.  Officer Steinfeldt first noticed Pedro on the ground, before turning towards Sprouse's vehicle.  Sprouse shot at Officer Steinfeldt, who returned fire after collapsing.  Shortly thereafter, Officer Brad Lindsey arrived on the scene and arrested Sprouse without incident.  Pedro and Officer Steinfeldt both died from their injuries.
Sprouse was also taken to the hospital, as he had received injuries during the shooting.  Hospital staff reported that he was uncooperative while receiving treatment.  Sprouse also admitted to have taken marijuana and methamphetamines within 48 hours of the incident.  While receiving treatment, Sprouse made repeated references to the "two cops" who "got whacked."
During his trial, Sprouse and his attorneys alleged that he was suffering from paranoid delusions at the time of the crime and was schizophrenic.  
Please pray for peace and healing for the families of Pedro and Officer Steinfeldt.  Please pray for strength for the family of Kent Sprouse.  Please pray that if Kent is innocent or lacks the mental competency to be executed, evidence will be presented prior to his execution.  Please pray that Kent may come to find peace through a personal relationship with Jesus Christ, if he has not already found one.