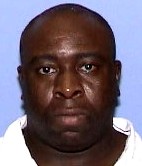 Update: Thursday, June 18, 2015  7:58 pm EDT
Gregory Lynn Russeau has been executed by the state of Texas.  Read the full story here.
Update: Monday, June 15, 2015  8:14 am EDT
Gregory Lynn Russeau is scheduled to be executed at 6 pm CDT, on Thursday, June 18, 2015, at the Walls Unit of the Huntsville State Penitentiary in Huntsville, Texas.  Forty-five-year-old Gregory is convicted of the murder and robbery of 75-year-old James Syvertson, on May 30, 2001, in Tyler, Texas.  Gregory has spent the last 12 years on Texas' death row.
According to Gregory's fourth grade teacher, he was a slow learner and had a learning disability.  Gregory also shared a special bond with his daughter, who was born with a birth defect.  Gregory dropped out of high school in the 11th grade and worked various jobs, including working as a barber, a laborer, and in a kitchen.  Gregory smoked crack cocaine the day of the murder.
On May 30, 2001, James Syverton reported to work as normal at an automobile repair garage in Tyler, Texas.  James spoke to a customer around 11:30 am.  Approximately one hour later, another customer, Bob Bruner stopped to drop off his car.  James was not seen, although both of his vehicles were seen parked outside.  Bob attempted to contact James around 1:30 pm, but no one answered the phone.
Later that afternoon, James' wife went to the garage, looking for him.  She also saw James' two cars, a gray Chevrolet Corsica and a gray Audi, parked outside, but she did not see James.  She left after no one answered her knock at the door.
Bob returned around 5:30 pm to pick up his vehicle, as he had not heard from James.  A short time later, Mrs. Syvertson also stopped by the garage.  She became worried when she was unable to find him.  She contacted her daughter, Jeanette Jones, and together, they returned to garage around 7:00 pm.  James' gray Corsica was missing.  They entered the garage and found James' body next to a car he was working on at the time of the murder.  James' wallet was missing, as was his keys.  James' pants pockets had been turned inside out.  James' family also identified several items that were missing from the garage, or out of place.