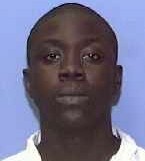 Update: Wednesday, November 18, 2015  9:45 pm EST
Raphael Holiday was executed by the state of Texas.  He was pronounced dead at 8:30 pm CST.  Read more about Raphael here.
Update: Wednesday, November 18, 2015  8:27 pm EST
The Texas Court of Criminal Appeals has reinstated the execution warrant for Raphael Deon Holiday.  His execution was scheduled to occur at 6 pm CST.  The Supreme Court of the United States earlier rejected a request to stay his execution. 
Update: Wednesday, November 18, 2015  5:39 pm EST
Raphael Deon Holiday was granted a stay of execution by Madison County State District Judge Hal Ridley.  Raphael's court appointed lawyers had stopped working on his case and refused to file appeals or requests for clemency ahead of his execution.  The lawyers have stated that they refused to file appeals or requests for clemency because such efforts had not chance of succeeding in Texas and they did not want to give Raphael also hope.  When Raphael attempted to have the court appoint him new lawyers, his lawyers opposed the action, saying that they have continued working on his case and that new lawyers would not be able to identify any new claims that could successfully postpone his execution.  The Texas Attorney General's Office is asked the Texas Court of Criminal Appeals to reinstate the execution date and allow the execution to proceed as scheduled.
Update: Monday, November 16, 2015  4:39 pm EST
Raphael Deon Holiday is scheduled to be executed at 6 pm CST, on Wednesday, November 18, 2015, at the Walls Unit of the Huntsville State Penitentiary in Huntsville, Texas.  Thirty-six-year-old Raphael is convicted of the murder of his one-year-old daughter Justice, and his two stepdaughters, five-year-old Jasmine and seven-year-old Tierra, on September 6, 2000, in Madison County, Texas.  Raphael has spent the last 13 years of his life on Texas' death row.
Raphael dropped out of school following the ninth grade.  Prior to his arrest, he worked as a cook and a forklift operator.  According to a psychiatrist, Raphael suffered from depression and had poor internal mechanisms for coping with stress and frustration.
Raphael Holiday lived with Tami Lynn Wilkerson in a log home built by Tami's father, in a secluded, wooded area, approximately ten miles from the main highway and two miles from the home of Tami's mother.  Raphael and Tami had a one-year-old daughter, Justice, together.  Also living with them was Tami's two daughters, five-year-old Jasmine and seven-year-old Tierra.
In March of 2000, Tami learned that Holiday had sexually assaulted Tierra and filed charges against him.  She also obtained a protective order against him.  Tami and her family, including Justice, continued to live in the log home, while Holiday moved out.  Despite the protective order, Tami and Holiday met several times between April and the end of August.  The meetings were to allow him to see his daughter and deal with threats he had made.
In August, Holiday arrived at the restaurant when Tami worked.  Tami locked herself in the office and called the police when Holiday attempted to pick the lock and gain entrance.  Police arrived and removed Holiday from the premise.  Approximately one week later, Holiday called Tami and said he needed help jump starting his vehicle.  When Tami arrived, Holiday took her keys, told her that he had two guns and forced her to have sex with him.  He then forced her into the car and threatened to crash the car, killing both of them.  Tami eventually convicted Holiday to release.  After that incident, she no longer accepted calls from Holiday.
Around 11 pm on September 5, 2000, a daughter heard glass breaking outside of their log home.  Tami looked out the window and saw a figure walking towards the house.  She called her mother, Beverly Mitchell, for help.  Beverly arrived a short time later, along with an uncle, Terry Keller.  Terry had a shotgun and began walking around the house and yard.  Beverly took Jasmine and Tierra to her car, returning to the home for Justice.  At that time, she also picked up the phone to call the police.