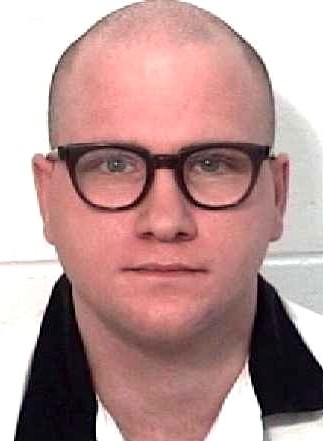 Update: Wednesday, February 17, 2016  7:48 pm EST
Travis Hittson has been executed by the state of Georgia.  For more information, click here. 
Update: Wednesday, February 17, 2016  7:48 pm EST
The Supreme Court of the United States has rejected a request to stay the execution of Travis Hittson.  With this denial, Travis' execution may proceed.
Update: Wednesday, February 17, 2016  4:13 pm EST
The Georgia Supreme Court has rejected a request to stay the execution of Travis Hittson.  Travis and his attorneys alleged that there was prosecutorial misconduct when a state psychologist testified regarding incriminatory statements made by Travis. 
Update: Wednesday, February 17, 2016  10:54 am EST
The Georgia Board of Pardons and Paroles has rejected a request for clemency from Travis Hittson.  Travis and his attorneys were arguing that he was manipulated into participating in the murder of Conway Utterbeck.
Update: February 15, 2016  11:12 am EST
Travis Clinton Hittson is scheduled to be executed at 7 pm EST, on Wednesday, February 17, 2016, at the Georgia Diagnostic and Classification Prison in Jackson, Georgia.  Forty-four-year-old Travis is convicted of the murder of 20-year-old Conway Uttereck on April 5, 1992, in Warner Robbins, Georgia.  Travis has spent the last 23 years of his life on Georgia's death row.
Travis was deprived of affection growing up and rarely received affirmation from others, leading to depression and the belief that no one could love him.  Travis was enlisted in the US Navy.  Many shipmates testified that he was good-natured, although dim-witted.  He worked hard and was eager to please.  He was also known to drink frequently and do stupid things when drunk.  He did not have a prior criminal record.
Travis Hittson, Edward Vollmer and Conway Utterbeck were all stationed together aboard the USS Forrestal, an aircraft carrier based in Pensacola, Florida.  All three men were members of the electrical division of the engineering department.  Vollmer and Hittson were on the same work detail, while Utterbeck had a different assignment in the same area of the ship.
On Friday, April 3, 1992, Vollmer invited Hittson and Utterbeck to his parents house in Warner Robins, Georgia, for the weekend.  The three men arrived at the house late Friday evening.  They spent most of the day on Saturday hanging around the house.  In the evening, Vollmer and Hittson began drinking.  They eventually left the house, leaving Utterbeck alone.
During the early morning hours of Sunday, April 5, 1992, Vollmer and Hittson headed back to the house.  Hittson alleged he was "very drunk" by that time.  During the drive back, Vollmer told Hittson that Utterbeck had a hit list with their names on it and that Utterbeck was going to kill both of them.  When the two men arrived back at the house, Vollmer put on a bulletproof vest and long branch coat and took two guns from his vehicle.  He gave Hittson an aluminum bat that was also in the car.  Vollmer told Hittson that Utterbeck was inside waiting to shoot them.
Hittson entered the house first and found Utterbeck asleep on a recliner.  Hittson struck him on the head with the bat.  Utterbeck woke up and attempted to defend himself while Hittson struck him two more times, enough to subdue Utterbeck.  Utterbeck, however, remained conscious.  Vollmer entered the kitchen, where Hittson had dragged Utterbeck, and gave Hittson a firearm.  Utterbeck asked "what did I ever do to you?" and begged for his life.  Hittson shot Utterbeck point blank in the head.
Hittson and Vollmer stripped and robbed Utterbeck before going to a nearby restaurant to eat.  They then returned to the house to clean up.  Vollmer instructed Hittson to dismember the body, first using a serrated steak knife, then a hacksaw from a tool shed.  Hittson, at Vollmer's instruction, cut off one of Utterbeck's hands before being to saw off the head.  When Hittson became sick, Vollmer finished sawing off the head, the other hand, and both feet.  Vollmer also skinned part of Utterbeck, including his genitalia.  Hittson denied participating in such mutilation.
The duo wrapped the body parts in plastic bags.  They buried the torso in a shallow grave in a nearby wooded area.  Upon returning to the house, a local women noticed the car, the odd location, and the out of state plates.  She wrote down the license plate number and identifying information about the vehicle.  She turned this information over to police after Utterbeck's body was discover two months later. 
Hittson and Vollmer spent the remainder of the day cleaning up evidence of their crime, including hiding evidence from two individuals who came by the house.  The left to return to Pensacola that evening.  They disposed of Utterbeck's clothing and ID in a nearby dumpster and attempted to find a suitable place to bury Utterbeck's hands, head, and feet.
The reported to work on Monday, April 6, with body parts still in their trunk.  That night, they buried the remaining body parts in shallow holes in a nearby wooded area.
Utterbeck was noted as missing and when questioned, Vollmer and Hittson claimed that they had dropped Utterbeck off at a bar on their way back on that Monday.
Utterbeck's torso was discovered on June 16, 1992, by loggers.  Police were unable to identify the torso.  The report from the women about the strange car had taken down the license plate incorrectly, preventing police from immediately identifying it as belonging to Vollmer.  The Navy, in its attempts to locate Utterbeck, sent a request to other law enforcement agencies for information regarding unidentified bodies matching Utterbeck's description.  Georgia police responded the same day regarding their unidentified torso.
Vollmer and Hittson were once again questioned, this time by the Navy and the Georgia police from Houston County.  Hittson eventually confessed to the crime and led investigators to the remaining body parts and told them where to find the baseball bat he had used.
Hittson was sentenced to death, while Vollmer was sentenced to life in prison.  
Travis Hittson has asked the Georgia Board of Pardons and Paroles for clemency, arguing that since Vollmer was the instigator and was not sentenced to death, then neither should Travis been sentenced to death.  The Board has not yet ruled on Travis' request.
Please pray for peace for the family of Conway Utterbeck.  Please pray for the family of Travis Hittson.  Please pray that if Travis is innocent, lacks the mental competency to be executed, or should not be executed for any other reason that evidence will be presented prior to his execution.  Please pray that Travis will come to find peace through a personal relationship with Jesus Christ, if he has not already.
Scroll