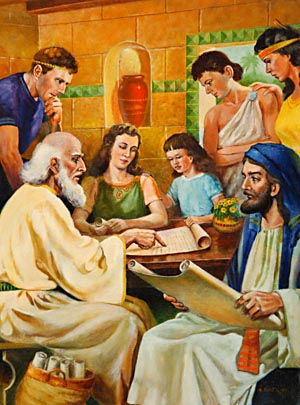 Daily Bible Reading for March 16, 2014, with Commentary: 1 Corinthians 7-8
Click here for the Daily Reading.
Context: Paul addresses another topic about which the Corinthians had asked him: marriage.  It is important to remember that this letter specifically addresses problems within the Corinth church.  In the Corinth church, they were having problems with sexual immorality, which covers a multitude of sexual sins.  In verse 17, Paul reminds the Corinthians that ultimately, when they are standing before the Lord, it does not matter if they are married or unmarried, circumcised on uncircumcised.  What is important that they had fled from sin.  In chapter 8, Paul addresses yet another topic, one which he also addressed in his letter to the church at Rome.  The church at Corinth disagreed as to whether it was acceptable to eat meat which had been sacrificed to an idol.  Paul repeats his advice.  Since some Christians feel that eating the meat is akin to idolatry, that is, eating the meat will mean they are eating it in the hopes that they will benefit from the idol, all should refrain so as not to lead their brothers and sisters into sin.  If the meat had not been offered to an idol, it was allowable.
World History: During the time of the early Christian church, there were so many converts to Christianity that the sale of meat which had been offered to idols had notably decreased and affected businesses.