Daily Bible Reading for March 23, 2014, with Commentary: 1 Corinthians 9-10
Click here for the Daily Reading.
Context: In chapter 9, Paul continues the theme of serving others.  We, as Christians, are to serve others and to not hinder the spreading of the Word of God.  Paul was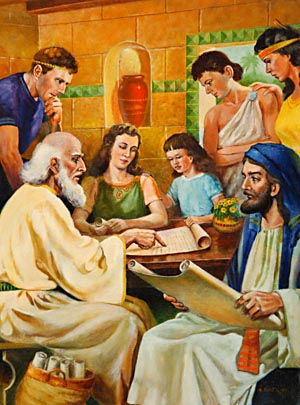 challenging the Corinthians to serve others rather hold their knowledge over others.  Paul stresses that there is nothing more important than spreading the word of God.  In chapter 10, Paul uses examples from Israel's past to warn the Corinthians against being over confident: setting their hearts on evil things (Numbers 11:4-6), idolatry (Numbers 25:1-9; 31:16), sexual immorality (Numbers 21:4-9), testing the Lord (Exodus 12:23; 15:24), and grumbling (Deuteronomy 1:27).  Paul reassures the Corinthians that God will not test them beyond their means.  Paul then returns to his earlier them of serving others and ensuring that you do not lead fellow Christians into sin.
World History: In the early 50s, Christianity is introduced throughout Nubia by an official of Queen Judith.