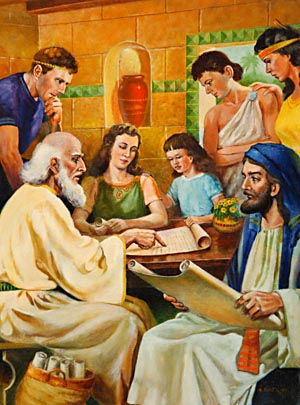 Daily Bible Reading for April 6, 2014, with Commentary: 1 Corinthians 13-14
Click here for the Daily Reading.
Context: Chapter 13 is a well-known passage about love.  The description given is one of perfect love, the love that Jesus has for all of His flock.  It is a love we should strive to achieve.  But how does this passage about love relate to the preceding and following chapter, which talk about spiritual gifts?  To love unconditionally is greater than any spiritual gift.  Love should also be the driving force behind the use of our spiritual gifts.  In chapter 14, Paul further describes the gifts of prophecy and tongues and how they are to be used.  The gift of tongues is for the believers, while prophecy is for unbelievers.  No, this does not mean that unbelievers can prophesize.  An unbeliever would not understand (literally and figuratively) someone speaking in tongues.  They would likely think the church and/or person is insane.  However, they would be able to recognize the gift of prophecy.  The Corinthians were not to let these gifts overwhelm the church.  They were to respect one another when each spoke and not speak over one another.  Additionally, there were only to be two or three that spoke at a service, with someone to interpret.  Paul's comments on women can be surprising when compared to previous comments.  Paul is not contradicting his earlier comment about allowing women to speak in tongues or prophesize, rather he was again emphasizing the importance of respect for their husbands.  They were not to question their husband in front of the church but rather at home.  They were to seek the answer from their husband privately.