Daily Bible Reading for April 24, 2014, with Commentary: Job 33-34
Click here for the Daily Reading.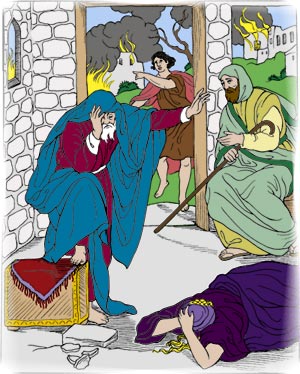 Context: Chapter 33 is the conclusion of Elihu's first speech.He begins with an additional apology to Job (1-7) and claims to be speaking with the Spirit of God (4).Elihu's summarizes Job's claim to be free of sin (8-11) and responds to Job's claim (12-30), before inviting Job to respond (31-33).Job does not respond, so Elihu makes a second speech in chapter 34.He summons Job to listen to him (1-4) and summarizes Job's complaint against God (5-9).In Elihu's response to Job's complaint against God (10-30), he issues his thesis on God's just rule (10-15) and offers a defense of God's just rule (16-30).Elihu then calls for a decision (31-33) and a judgement (34-37).
World History: Elihu is not a close friend of Job, but a promising young wise man who offers a different perspective.