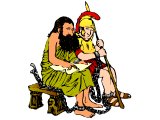 Daily Bible Reading for June 22, 2014, with Commentary: Philippians 1-2
Click here for the Daily Reading.
Author: Apostle Paul, while in prison in Rome
Date: AD 62
Context: Paul's special relationship with the Philippians was evident in the way he wrote to them.  He began his letter with a traditional greeting, before letting the Philippians know that not only had he been thinking about them, but also praying for them.  Simply knowing they were out there doing the Lord's work brought Paul joy!  Paul is also encouraged by the reaction by many people to his imprisonment.  It was common knowledge that Paul had committed no crime, but remained in chains for Christ.  Instead of his situation causing fear for other, it encouraged them to pick up where he left off.  Paul trusts that his current situation is all part of God's larger plan.  Paul encourages the Philippians to remain humble as Christ was.  Jesus is God, He has always existed, even before being born in Bethlehem.  Jesus became human in Bethlehem, although He remained sinless.  Nonetheless, Jesus held a serving attitude, just as we are to do.  Paul encourages the Philippians to continue to be shining examples for Christ - serving others and not ourselves.  Paul also exhorts the Philippians to welcome back Epaphroditus, who nearly died on his way to see Paul, and not to criticize him for not remaining with Paul longer to help him.
World History: Like Ephesians, Philippians was written by Paul while in prison in Rome, awaiting trial before Emperor Nero.  It was sent to Philippi with Epaphroditus, who was from Philippi.  Paul had established the church at Philippi on his first missionary journey and maintained close and personal contact with them throughout his life.  Philippi was the location of the first church in Europe, located on the northern part of modern-day Greece.  During Paul's day, it was a Roman colony.