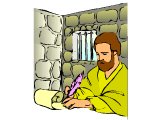 Daily Bible Reading for July 6, 2014, with Commentary: Colossians 1-2
Click here for the Daily Reading.
Author: Apostle Paul, while in prison in Rome
Date: AD 61 or AD 62
Context: Paul begins his letter with his traditional greeting.  Paul had heard of the church and let them know the good things he had heard about them.  He also let them know that he was praying for them.  Paul immediately moves into his defense of Jesus being the Son of God, contrary to what the false teachers were preaching.  Jesus is a way for us to see and understand God.  He is our link to God.  No one and nothing is or should be made equal to Him.  Paul wants spiritual maturity for all believers, which includes recognizing and accepting the supremeness of Christ.  Paul encourages the church to remember their teachings of Christ and not fall sway to false teachings.  Salvation through Christ is enough, we do not need to add on additional requirements.  Greater holiness is not gained through abstaining from physical needs.  There is nothing we can do which will provide for our salvation, except faith in Jesus Christ.
World History: The letter to the Colossian church was delivered by Epaphras, who was a leader within the church.  Paul did not personally know the Colossian church; he had not visited and had not directly started the church.  Paul had heard that false teachers had arrived and were teaching at Colosse.  These false teachers did not dispute or refute Jesus, rather, they sought to diminish His importance.  It was an early form of Gnosticism, dividing the world into the material world (which is evil) and the immaterial or spiritual world (which is good).  Using this logic, Jesus could not possibly be God, because God is spiritual and the earth is material.  Paul was warning the church against these types of teachings.