Developmental Disabilities Awareness
When he came down from the mountain, great crowds followed him. And behold, a leper came to him and knelt before him, saying, "Lord, if you will, you can make me clean." And Jesus stretched out his hand and touched him, saying, "I will; be clean." And immediately his leprosy was cleansed. And Jesus said to him, "See that you say nothing to anyone, but go, show yourself to the priest and offer the gift that Moses commanded, for a proof to them."  (Matthew 8:1-4, ESV)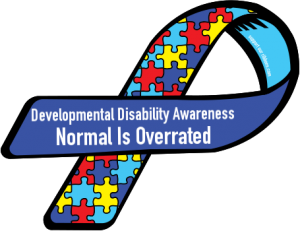 In 1987, President Ronald Reagan declared March to be Developmental Disabilities Awareness Month. In the previous decades, men and women who suffered from any of the numerous developmental disabilities were often sent away to institutions because we did not know how to address their needs. With his proclamation, President Reagan sought to raise awareness and provide "encouragement and opportunities" for people with developmental disabilities.
Over 4.6 million individuals are considered developmentally disabled within the United States. In 1990, the Americans with Disabilities Act was passed, the goal of which was to assisted individuals classified with developmental disabilities in obtaining jobs, housing, and independence. Thousands of programs resulted from this Act, which helps individuals with developmental disabilities reach their full potential, becoming productive, contributing members of society.
In 2004, the Individuals with Disabilities Education Act was passed. Through this Act, changes were made in schools, allowing teachers to better provide specialized education for individuals with developmental disabilities. Colleges have begun designing programs to specifically help these individual obtain college degrees, which furthers their ability to contribute in the workforce and live independent lives.
During this month, Developmental Disabilities Awareness Month, consider your view of and relationship with people with developmental disabilities. Have you considered what you have done to help a friend or neighbor who may have a developmental disability? Have you considered what you have taught your children? Have you considered?
For more information regarding how your financial support can help, please click here.