What Is In A Name – Mighty God
Mighty God
For to us a child is born,
    to us a son is given,
    and the government will be on his shoulders.
And he will be called
    …Mighty God…
  (Isaiah 9:6, NIV)
In the next section of our study of this quintessential Christmas verse, and our wider study of many of the Names of Jesus, we look at the name Mighty God. A few weeks ago, we studied the name Almighty. At first glance, many may consider them the same name, with the same meaning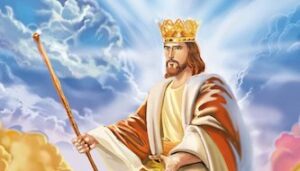 and same importance. Yet they are different! And more importantly, they are recorded differently, showing they have two different meanings.
As mentioned last week, this prophecy came at a time of great turmoil in Israel. They were being invaded and conquered. They had placed their trust and faith in man and were suffering for their folly. This prophecy was one of hope – God would save His people! A man was coming, a man who would rule over the entire world. The Israelites were living in a time of war and uncertainty. No doubt they thought their coming savior would be a mighty warrior able to conquer battlefields. They weren't wrong, they were just thinking of the wrong battlefields.
Jesus came not as the mighty warrior they were expecting. Jesus, the Son of God, was also Mighty God. When Jesus was arrested, when He stood before the Jewish leaders and before Pontus Pilate, He was accused of blasphemy, accused of claiming to be God. Yet Isaiah foretold that the coming Savior would be not only a man but He would also be God. Only God is able to withstand the temptations of this world, keeping Himself pure for the perfect sacrifice needed to assure our eternal salvation. Only Mighty God could provide salvation.
Jesus was Mighty before He came to earth as a human. We can see His might at the beginning, in creation. John 1:1, tells us "In the beginning was the Word, and the Word was with God, and the Word was God." A few verses later, John tells us that the Word is Jesus Christ. Jesus has been with God since the beginning, since before time. Through Jesus, through the Word, all things were made. Jesus is and always has been Mighty God.
So what does this mean for us? This name in Isaiah's prophecy emphasizes the importance of understanding and accepting that Jesus and God are one and equals. If you deny Jesus as God, then you have rejected Jesus. Our salvation is not possible without that recognition. Our salvation is assured because Jesus, the Mighty God, shed His perfect blood as the sacrifice for our sins. Do you recognize Jesus as Mighty God?
For more information regarding how your financial support can help, please click here.