HOLY WEEK – An Introduction
An Introduction to Holy Week
JOIN THE FORGIVENESS FOUNDATION CHRISTIAN MINISTRIES AS WE TRACE THE STEPS OF JESUS DURING HOLY WEEK!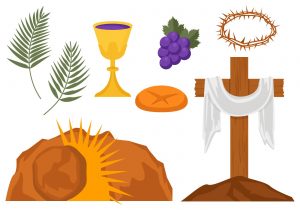 The Christian community has named the last week of Jesus' life leading up to His crucifixion Holy Week. Holy Week, for the Christian church, is a celebration of the events of Jesus' life which occurred from Psalm Sunday to Dark Saturday, which prepares the believer for Resurrection Sunday. Even as Jesus prepared Himself to surrender to a Roman crucifixion He was preparing the believers for His coming resurrection. Follow The Forgiveness Foundation Christian Ministries daily account of Holy Week and Resurrection (Easter) Sunday. Just below our Daily Bible Readings, we will be posting a new article every day! Each day will reveal a new episode of Christ's Holy Week journey. Jesus' journey to Calvary.
Godspeace!
For more information regarding how your financial support can help, please click here.