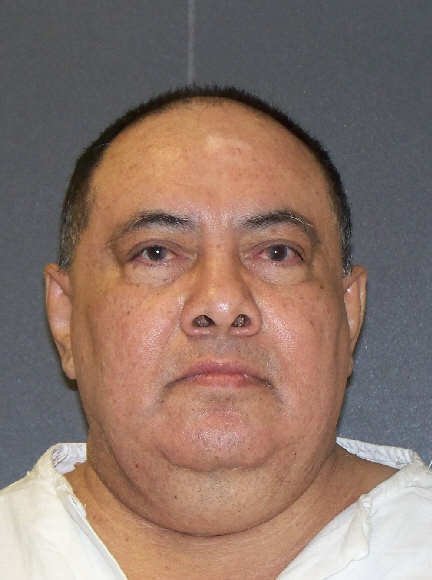 Updated: Tuesday, November 13, 2018  9:18 am EST
The Texas Court of Criminal Appeals has refused to halt the execution of Mexican national Robert Ramos.  Robert was arguing that his execution should be stayed as it violated his rights under the Vienna Convention. (For more information about how the Vienna Convention relates to this issue, click here)  Robert also argued that his rights were violated as he had ineffective counsel during the penalty phase of his trial.
Updated: Monday, November 12, 2018  8:43 am EST
Robert Moreno Ramos is scheduled to be executed at 6 pm CST, on Wednesday, November 14, 2018, inside the Walls Unit execution chamber at the Huntsville State Penitentiary in Huntsville, Texas.  Sixty-year-old Robert is convicted of murdering his 42-year-old wife Leticia Ramos and their two children, 7-year-old Abigail and 3-year-old Jonathan, on February 7, 1992, in Progreso, Texas.  Robert has spent the last 25 years on Texas' death row.
Robert is a Mexican national and was born in Aquascalientes, Mexico.  He allegedly had a difficult childhood and was abused.  He did not graduate from high school, dropping out prior to his senior year.  Prior to his arrest, Robert worked as an aide for a disabled man and his family.
In November 1991, Robert Ramos began having an affair with Marisa Robledo.  Marisa has stated that she did not know Ramos was married, as he had told her that his wife Leticia was a widow that he was helping to support, along with her children Jonathan and Abigail.  In reality, Leticia was Robert's wife and Jonathan and Abigail were their children.
The affair continued and eventually, Marisa wanted to get married.  Ramos agreed and they set a date for February 10, 1992.  On February 7, 1992, Ramos returned to the home he shared with his wife.  A neighbor heard a female screaming and swearing from the house.  When church members visited the family in the next couple of days, Ramos stated that they were moving to California and were too busy to say goodbye.
On February 10, 1992, Ramos and Marisa were married.  Over the next two months, Ramos gave conflicting accounts of where his missing family had gone.  Eventually the police were notified.  Ramos was questioned by the police on March 30, 1992.  He was then arrested for various traffic warrants.
On April 6, 1992, police searched Ramos' home, discovering extensive blood evidence.  Additionally, all toys and clothing belong to the missing family members had been placed in the attic.  Police discovered the bodies of the Leticia, Abigail, and Jonathan, under the freshly tiled floor in the bathroom.  It was determined that they had all be killed by blows to the head with a blunt object, such as a hammer.