What Is In A Name – Bridegroom
Bridegroom
18 Now John's disciples and the Pharisees were fasting. Some people came and asked Jesus, "How is it that John's disciples and the disciples of the Pharisees are fasting, but yours are not?"
19 Jesus answered, "How can the guests of the bridegroom fast while he is with them? They cannot, so long as they have him with them. 20 But the time will come when the bridegroom will be taken from them, and on that day they will fast.  (Mark 2:18-20, NIV)
For many girls, it is what they dream of since they were little.  One day, finding the man they want to spend the rest of their life with, walking down the aisle in a big white dress towards him, ready to say, "I do."  Both men and women have dreams, hopes, expectations about the days, months, and years to come as they stand at the end of the aisle.  It is an exciting time!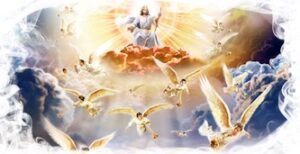 The church is described as the bride of Christ.  Jesus is described as the Bridegroom of the church.  It is an interesting comparison and is used throughout the Old and New Testaments.  Song of Solomon expresses the deep love between a husband and wife.  It expresses the love Jesus has for the church.  Think of a married couple who are deeply in love with each other.  It is obvious by the way they act and the way they speak of each other.  Jesus' love for us goes deeper than even that!  His love for us is impossible to truly fathom. 
In this week's passage, Jesus is claiming Himself as the bridegroom.  His bride is the church, that is, all who have accepted Him as their Lord and Savior.  Just as a man would prepare a home for himself and his soon-to-be wife, Jesus has gone to prepare a home for each and every one of us.  Our eternal home will be with Him.
Just a spouse would be hurt if the other committed adultery, so God is hurt when we shift our focus from Him.  He should constantly be in our thoughts and conversations. When we allow false gods and idols into our lives and into our hearts, we have committed adultery against Him.  
So what does this mean for us?  You are the bride of Jesus Christ!  Do you act like it?  How would you feel if your spouse acted as you act?  Growing closer to the Lord is not always easy – He never said it would be!  But perseverance and patience deepens our relationship with Him in preparation for His return.  Are you ready for the Bridegroom?
For more information regarding how your financial support can help, please click here.