EXODUS 25-28: DAY 135 JOURNEY THROUGH THE BIBLE IN A YEAR
May 15, 2023
EXODUS 25-28
DAY 135 JOURNEY THROUGH THE BIBLE IN A YEAR
Click here for the reading
Focus Verses For Today: Exodus 25:1-9
Our journey through Exodus 25-28 is God's instructions on how to build the Tabernacle; the centerpiece for worship for the Israelites.
Ask God for His understanding of Exodus 25-28. Read Exodus 25-28. Let's journey!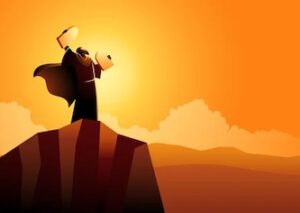 Exodus 25-28: God gives detailed instructions for financing and constructing the Tabernacle in great detail. Every aspect of the construction of the Tabernacle is given to Moses, in detail, to be followed. One element of the Tabernacle is the arc of the covenant. The arc is a chest where the two stone tablets containing the Ten Commandments were placed. Once constructed, it was never to be touched by human hands again. The consequence of touching the arc of the covenant was death. (See Exodus 25:10-22) (Exodus 25:1-28:43)
Our focus verses for today:
The Lord said to Moses, 2 "Tell the Israelites to bring me an offering. You are to receive the offering for me from everyone whose heart prompts them to give. 3 These are the offerings you are to receive from them: gold, silver and bronze; 4 blue, purple and scarlet yarn and fine linen; goat hair; 5 ram skins dyed red and another type of durable leather; acacia wood; 6 olive oil for the light; spices for the anointing oil and for the fragrant incense; 7 and onyx stones and other gems to be mounted on the ephod and breastpiece.
8 "Then have them make a sanctuary for me, and I will dwell among them. 9 Make this tabernacle and all its furnishings exactly like the pattern I will show you.
(Exodus 25:1-9, NIV, underline added)
Focus on verse 2 of today's focus verses. It explains how the construction of the Tabernacle was to be financed. Please notice that God does not require a mandatory offering from the Israelites. God wants the Israelites, prompted by their love for Him, to fund the construction of the Tabernacle. If you reflect back on yesterday's lesson, God loves a cheerful giver. God's love for you is free. You are free to choose to love God or not. Do you love God? One day all humanity will be required to answer this question.
Godspeace!
For more information regarding how your financial support can help, please click here.