Sermon on the Mount – Service
Service
"Be careful not to practice your righteousness in front of others to be seen by them. If you do, you will have no reward from your Father in heaven.
2 "So when you give to the needy, do not announce it with trumpets, as the hypocrites do in the synagogues and on the streets, to be honored by others. Truly I tell you, they have received their reward in full. 3 But when you give to the needy, do not let your left hand know what your right hand is doing, 4 so that your giving may be in secret. Then your Father, who sees what is done in secret, will reward you. (Matthew 6:1-4, NIV)
As Jesus continues His Sermon on the Mount, He addresses the topics of performing righteousness, specifically by giving to the needy. Jesus calls for all who follow Him and His Father to have compassion for those less fortunate than themselves. Having compassion and showing it, are evidence of our faith in Jesus and our desire to have a closer relationship with Him. But Jesus is warning us against being prideful with our compassion and showing it off.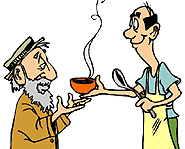 The difference between being humble and being prideful in our service to the Lord is a very fine line that is impossible to straddle and exceedingly easy to cross. Of course, we should all strive to be humble in our service. Our hearts should want to serve because doing so strengthens and deepens our relationship with our Savior. Serving should not simply be part of some checklist we do because we are supposed to do it.
But too many people want to make sure others know of their service. Instead of "name dropping" important/famous/wealthy people they know, they "name drop" all the works of service they perform. But it is always about what they are doing, not the work that is being done to help others. These people are being prideful. They want to make sure everyone is giving them credit for their work. But we do not need to worry about keeping track. God knows everything. He knows the work we do and the attitude with which we do it.
While Jesus stresses not advertising our works of service, this does not mean that others cannot know what we have done. Did you have a moving encounter on a mission trip? Share it! Do you have an idea for serving but need help? Share it! Do you need prayer for an upcoming missing trip? Share it! The difference between pridefully advertising and humbly sharing is the condition of the heart – the motive behind the action. God knows it! We need to carefully examine our hearts to ensure we know our motives too.
While Jesus is specifically addressing giving to the needy, His message can be applied much more broadly in addressing all acts of service. And giving to the needy can be done in hundreds of different ways! Service, giving to the needy doesn't need to be a tiresome chore. Find something you enjoy doing and discover how that can be used in the service of others!
Our reward for our service towards others will not be given in gold and silver and earthly wealth. Our reward with come from our Heavenly Father. While we can use our imagination to consider how He will reward us, our imagination will fail us. God has something magnificent in store for all who humbly serve Him with an honest heart. How do you serve? Why do you serve? Examine your heart!
For more information regarding how your financial support can help, please click here.