1 CHRONICLES 20-24: DAY 248 JOURNEY THROUGH THE BIBLE IN A YEAR
September 5, 2020
1 CHRONICLES 20-24
DAY 248 JOURNEY THROUGH THE BIBLE IN A YEAR
Click here for the reading
Focus Verses for today: 1 Chronicles 21:1-2 & 8
Our journey through 1 Chronicles 20-24 takes us through the closing years of David as King of Israel, in failing health, ending with the transferring of power to his son Solomon in the works.
Seek the Lord's understanding of 1 Chronicles 20-24. Read 1 Chronicles 20-24. Let's journey!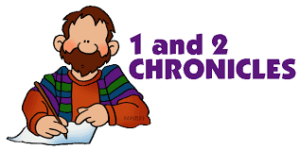 1 Chronicles 20-24: 1 Chronicles 20 tells of the defeat of Rabbah and war with the Philistines. War which decimated the Philistines. In chapter 21, David, against warnings from Joab, counted his fighting men. God punished David for this by sending a plague upon Israel. David chose the punishment which resulted in the plague which ravaged all of Israel. David, upon seeing the consequences of his sin, asked the Lord to relent and focus the punishment on David and his family. The Lord relented. Chapters 22-24, show David helping Solomon prepare to build the temple and the organization of how the temple was to operate. (1 Chronicles 20:1-24:31)
Our focus verses for today:
Satan rose up against Israel and incited David to take a census of Israel. 2So David said to Joab and the commanders of the troops, "Go and count the Israelites from Beersheba to Dan. Then report back to me so that I may know how many there are."
8Then David said to God, "I have sinned greatly by doing this. Now, I beg you, take away the guilt of your servant. I have done a very foolish thing."
(1 Chronicles 20:1-2 & 8, NIV)
What is wrong with counting the people? Pride! David's army had just completed a successful military operation and, more likely than not, King David was feeling pretty good about himself. David was warned by Joab not to count his people, number his army, and King David knew the Lord opposed census taking not directed by Him. David ignored God's wishes and the reminder of Joab. Why? What was wrong with knowing how many people he governed and how large his army was? What's wrong with that? Pride!
David was losing focus. David began to see his kingdom's accomplishments as the result of his work, ignoring that God delivered the victories into his hand. David had forgotten the principle that guided his life, that is, to surrender his life to God. David sought forgiveness and repented. Still, God reminded David that He, not David, is in charge, with a plague that ravaged Israel. Protect yourself against pride!
Godspeace!
For more information regarding how your financial support can help, please click here.