MICAH 1-7: DAY 286 JOURNEY THROUGH THE BIBLE IN A YEAR
October 13, 2023
MICAH 1-7
DAY 286 JOURNEY THROUGH THE BIBLE IN A YEAR
Click here for the reading
Focus Verse For Today: Micah 6:8
Today, we both begin and conclude our journey through the book of Micah, a book of prophecy. Little is known about Micah, as he is elsewhere mentioned only once, in the book of Jeremiah. Micah existed during the same time as Isaiah and Hosea, however, Micah worked mainly in the southern kingdom of Judah during the reigns of Jotham, Ahaz, and Hezekiah.
Ask the Lord for His understanding of Micah 1-7. Read Micah 1-7. Let's journey!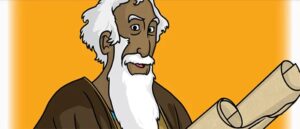 Micah 1-7: Micah begins by issuing a stern judgment against Samaria and Jerusalem. Samaria, the capital of the northern kingdom would fall. Micah continues in chapters 2 and 3 by warning against greed, false prophets, and corrupt leaders, all of which were problems during the time of Micah's ministry. In chapter 5, Micah offers a message of hope, a reminder of the peace that will one day come. Micah foretells the coming, both comings, of Jesus Christ, first as a babe, then as ruler. In Chapter 6, the case is laid against Israel, and at the beginning of Chapter 7, Micah offers a lament for what is to come for Israel. Micah then ends his book with a message of hope, for Israel will not remain destroyed. (Micah 1:1-7:20)
Our focus verse for today:
He has shown you, O mortal, what is good.
    And what does the Lord require of you?
To act justly and to love mercy
    and to walk humbly with your God.
(Micah 6:8, NIV)
In this verse, Micah succinctly summarizes what it means to live a life for Christ. Many times, Christians will self-impose rules and requirements about how worship must be done and how one is to live their life. God wants our hearts, not empty actions and words. Examine your life. Is your heart seeking the Lord earnestly?
Godspeace!
For more information regarding how your financial support can help, please click here.