EZRA 6-10: DAY 325 JOURNEY THROUGH THE BIBLE IN A YEAR
November 21, 2023
EZRA 6-10
DAY 325 JOURNEY THROUGH THE BIBLE IN A YEAR
Click here for the reading
Focus Verses For Today: Ezra 9:1-2
Our journey today continues with the rebuilding of Jerusalem.
Take a moment and pray, asking for understanding of today's reading. Read Ezra 6-10. Let's journey!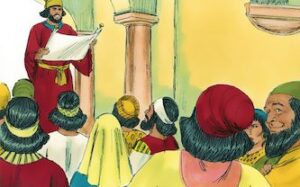 Ezra 6-10: With the support of King Darius of Persia, the Israelites were able to finish the rebuilding of the temple and celebrate Passover. Ezra led the second wave of exiles back to Jerusalem. In the intervening years, from the beginning of the rebuilding of the temple to Ezra's arrival, the people had, once again, failed to obey the Lord by marrying outsiders who worshiped false gods. It was a problem that required a tough solution. Our reading concludes with a list of names of those who were guilty of intermarrying. (Ezra 6:1-10:44)
Our focus verses for today:
After these things had been done, the leaders came to me and said, "The people of Israel, including the priests and the Levites, have not kept themselves separate from the neighboring peoples with their detestable practices, like those of the Canaanites, Hittites, Perizzites, Jebusites, Ammonites, Moabites, Egyptians and Amorites. 2 They have taken some of their daughters as wives for themselves and their sons, and have mingled the holy race with the peoples around them. And the leaders and officials have led the way in this unfaithfulness."
(Ezra 9:1-2, NIV)
What a sharp difference from last week's reading! Shortly after the Israelites returned, they were determined to remain faithful to the Lord. Now, the Israelites have again given into temptation; they have married outside the faith, led by their leaders. This recurring theme throughout the history of the Israelites, intermarrying with pagans and being led astray, should serve as a warning to us today. It is easy to be led astray if we are not constantly vigilant! Examine those in your life. Are they helping you grow in your relationship with the Lord? Why or why not?
Godspeace!
For more information regarding how your financial support can help, please click here.