Happy Birthday President Carter: James "Jimmy" Carter, 39th President of the United States
"We have a tendency to condemn people who are different from us, to define their sins as paramount and out own sinfulness as being insignificant."  He is a speed reader, reading 2,000 words per minute with a 95 percent accuracy rate.  He studied nuclear physics and is the only president to have commanded a submarine.  Due to his daughter's school project, all trees at the White House are labeled with their common and Latin names, as well as with information about who planted them or gave them as gifts.  He is James "Jimmy" Earl Carter, Jr., 39th President of the United States, serving from January 20, 1977, until January 20, 1981.  Jimmy was born on October 1, 1924,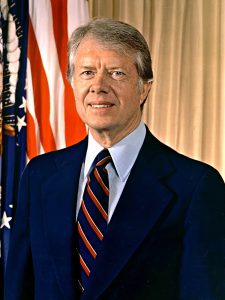 in Plains, Georgia. 
He was the first (and only) president born in Georgia, and the first president to be born in a hospital.  Jimmy's father owned a peanut farm, along with a warehouse and store, where Jimmy worked when he was young.
Jimmy's parents were devout Baptists, requiring that Jimmy regularly attend church.  Jimmy would identify as Baptist throughout most of his life.  Growing up, Jimmy had friends in the African American community, making him familiar with segregation issues.  His mother, a registered nurse, would frequently counsel African American women on health care issues.  When the Great Depression struck, Jimmy's father managed to prosper, supplying work to over 200 individuals.  In 1941, Jimmy became the first member of his family to graduate high school.
Jimmy attended Georgia Southwestern Junior College. He then enrolled in the Naval ROTC (Reserved Officers' Training Corps) with the Georgia Institute of Technology.  In 1943, Jimmy fulfilled a childhood dream and began attending the Naval Academy in Annapolis, Maryland.  He excelled and graduated in the top ten percent of his class in 1946.  In June of that year, Jimmy married childhood friend Rosalyn Smith.  Jimmy and Rosalyn had three sons over the next several years, and, eventually, a daughter.  Shortly after his father died in 1953, Jimmy moved his family back to the peanut farm, where he became successful.  He also began his career in politics.
Jimmy's career in politics began controversially.  In 1955, he was elected to the Sumter County Board of Education, where he eventually became chairman.  Jimmy became the only white man in Plains, Georgia, to refuse to join the White Citizens' Council, a group protesting the desegregation of schools in the South.  Jimmy's actions and opinions were not popular. However, voting districts were redrawn in 1962, decreasing voting disadvantages for African Americans. This allowed Jimmy's political career to continue.
In 1962, Jimmy ran for a seat in the Georgia State Senate.  Initial results showed his opponent as the victor, however, obvious voting fraud had occurred.  Jimmy appealed and was eventually declared the victor.  As a state Senator, Jimmy became known as a tough, independent politician who cut wasteful spending and supported civil rights.  After losing the 1966, gubernatorial election, Jimmy refocused and won the 1970 election. In order to win, Jimmy distanced himself from civil rights issues and even spoke out against desegregation.  Following his election, Jimmy returned to showing his support for civil rights, including desegregation, which angered several of his supporters.
Jimmy sought, and won, the 1976 Democratic presidential nomination.  During his campaign, Jimmy famously said, "I'll never tell a lie," and "I'll never avoid a controversial issue," helping reassure the American public that he could be trusted, an important factor following the Watergate Scandal years earlier.  Jimmy was expected to easily win the election, however, he made several mistakes, most prominently regarding comments about sex, marriage, and adultery, but he did ultimately managed to win the election.
The first executive order signed by President Jimmy Carter was to declare unconditional amnesty for draft evaders during the Vietnam War.  He also canceled military pay raises during times of high inflation and government deficits.  Jimmy's domestic priority as president was to decrease dependence on foreign oil, as the 1973 oil embargo had caused oil prices to rise.  While President Jimmy Carter was initially successful, his success was overshadowed by the Iranian Revolution of 1979, which drove up oil prices and caused long lines at gas stations.
As president, Jimmy had a poor relationship with the press, Congress, and other politicians.  This prevented President Jimmy Carter from enacting legislation and effectively communicating his policies.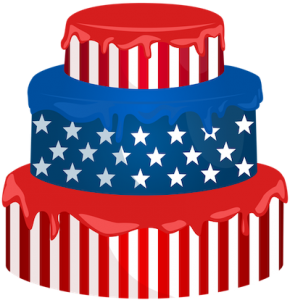 The most notable achievement by President Jimmy Carter was his mediation of the Camp David Accords between Israel and Egypt.  A historic peace treaty was signed at this meeting. The two nations officially recognized each other's governments and Israel withdrew from the Sinai.
On November 4, 1979, supporters of the Iranian Revolution took over the US Embassy in Tehran, Iran. They held 52 American diplomats and citizens hostage for 444 days.  President Jimmy Carter remained secluded in the White House for a portion of the crisis.  On April 24, 1980, a mission to rescue the hostages began.  The mission failed during its first phase when several of the aircraft became unfit for duty.  Two of the aircraft crashed into each other, killing eight servicemen.  Many, including Jimmy, believe that his unsuccessful handling of this crisis cost him his re-election.  The hostages were eventually released on January 20, 1981, shortly after the swearing-in of President Ronald Reagan.
Following his landslide defeat for re-election, Jimmy ventured overseas to welcome back the hostages from Iran. He then returned with his wife to their peanut farm.  Jimmy remained active following his presidency, by writing books and becoming active in Habitat for Humanity.  He is the longest-living former president.
Jimmy remains internationally active, working to resolve conflicts in Haiti, Bosnia, Ethiopia, North Korea, and Sudan, among other countries.  He has also championed human rights defenders and, in 2002, received a Nobel Peace Prize for working "to find peaceful solutions to international conflicts, to advance democracy and human rights, and to promote economic and social development."  Jimmy has also continued working for peace in the Middle East.
Happy Birthday Mr. President!
For more information regarding how your financial support can help, please click here.