LUKE 7-8: DAY 154 JOURNEY THROUGH THE BIBLE IN A YEAR
 June 3, 2023
LUKE 7-8
DAY 154 JOURNEY THROUGH THE BIBLE IN A YEAR
Click here for the reading
Focus Verses For Today: Luke 8:16-18
Our journey today, through Luke 7-8, includes more than the miracles and parables; it is the revelation of a loving God, Jesus.
Before completing the reading for today, ask God for His understanding of Luke 7-8. Read Luke 7-8. Let's journey!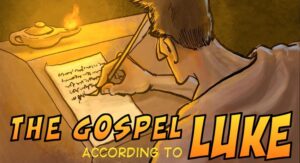 Luke 7-8: A Centurion sent Jewish elders to Jesus, asking Jesus to heal a sick servant. The Centurion, a Gentile, believed Jesus is God but felt unworthy to be in His presence. The centurion demonstrated great faith and the servant was healed. Jesus restores life to a widow's only son. John the Baptist, imprisoned, sent his followers to ask Jesus if He is the Messiah. Jesus is anointed by a sinful person (prostitute).  He continues teaching through a, with Luke recording, Parable of the Sower and the Parable of a Lamp on the Stand. Jesus defines family and calms a storm on the lake. He heals a demon-possessed man, a sick woman and restores life to a dead girl. (Luke 7:1-8:56)
Our focus verses for today:
16 "No one lights a lamp and hides it in a clay jar or puts it under a bed. Instead, they put it on a stand, so that those who come in can see the light. 17 For there is nothing hidden that will not be disclosed, and nothing concealed that will not be known or brought out into the open. 18 Therefore consider carefully how you listen. Whoever has will be given more; whoever does not have, even what they think they have will be taken from them."
(Luke 8:16-18, NIV)
This parable is about Jesus' teachings. Like the Ten Commandments, Jesus' teachings illuminate the ways of God and exposes sin as the eternal killer of those who chose to follow sin rather than repent of sinful living and follow Christ. Jesus' teachings, His word, delivered to us through the Bible, is the lamp, our roadmap, to salvation. Open its covers to allow the Light of the World, to shine His redemption and salvation on you!
Godspeace!
For more information regarding how your financial support can help, please click here.