LUKE 9-10: DAY 161 JOURNEY THROUGH THE BIBLE IN A YEAR
June 10, 2023
LUKE 9-10
DAY 161 JOURNEY THROUGH THE BIBLE IN A YEAR
Click here for the reading
Focus Verses For Today: Luke 10:17-20
Our journey through Luke today continues Jesus' preparation to go to Jerusalem where He will be crucified.
Ask God for His understanding of Luke 9-10. Read Luke 9-10. Let's journey!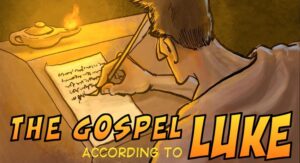 Luke 9-10: Jesus prepares His twelve apostles to lead the ministry once He is delivered over to the Romans. Jesus empowers and sends out the 12. Jesus feeds the 5,000. Jesus predicts His death. Jesus' transfiguration is witnessed by Peter, James, and John. Jesus heals a demon-possessed boy and gives a lesson on the cost of discipleship. Jesus sends out 72 disciples to prepare communities to which Jesus is coming. This is followed by the parable of the Good Samaritan and concludes with the story of Martha and Mary. (Luke 9:1-10:41)
Our focus verses for today:
17 The seventy-two returned with joy and said, "Lord, even the demons submit to us in your name."
18 He replied, "I saw Satan fall like lightning from heaven. 19 I have given you authority to trample on snakes and scorpions and to overcome all the power of the enemy; nothing will harm you. 20 However, do not rejoice that the spirits submit to you, but rejoice that your names are written in heaven."
(Luke 10:17-20, NIV)
The disciples who were sent out were impressed by what they could do with the power Jesus had given them. Jesus corrected them. A person's greatest joy should come from their name being written in heaven. As simple as this statement may appear, Jesus is pointing out the most important event that can happen in a person's life. Take some time to consider your destiny, if your name were not written in heaven. It is a very unsettling thought.
Godspeace!
For more information regarding how your financial support can help, please click here.