LUKE 13-14: DAY 175 JOURNEY THROUGH THE BIBLE IN A YEAR
June 24, 2023
LUKE 13-14
DAY 175 JOURNEY THROUGH THE BIBLE IN A YEAR
Click here for the reading
Focus Verses For Today: Luke 13:1-5
Today our journey through the book of Luke finds Jesus teaching about repentance and what keeping the Sabbath means as He continues His healing ministry.
Ask God for His understanding of Luke 13-14. Read Luke 13-14. Let's journey!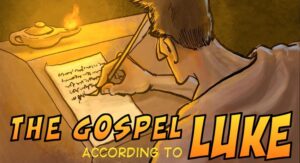 Luke 13-14: Today's journey visits the topics of repentance, which is the focus of our focus verse, whether it is lawful to work on the Sabbath, whether Heaven's door is narrow, and the true cost of discipleship. In the United States, and many other countries in the world, people spend a great deal of money perfecting their outward appearances. It is how they want to be seen. The Pharisees were greatly concerned that they appeared religious. Jesus cared about their hearts – the part of their bodies that only Jesus could see. (Luke 13:1-14:35)
Our focus verse for today:
Now there were some present at that time who told Jesus about the Galileans whose blood Pilate had mixed with their sacrifices. 2 Jesus answered, "Do you think that these Galileans were worse sinners than all the other Galileans because they suffered this way? 3 I tell you, no! But unless you repent, you too will all perish. 4 Or those eighteen who died when the tower in Siloam fell on them—do you think they were more guilty than all the others living in Jerusalem? 5 I tell you, no! But unless you repent, you too will all perish."
(Luke 13:1-5, NIV)
Repentance is seldom spoken of today. The church teaches about forgiveness a great deal to the neglect of repentance. Repentance is important. Repentance is all about your heart. You acknowledge to yourself that you are a sinner. You want to forsake everything in your life that offends (sin) God. You confess your sin to God. You seek forgiveness of your sin from God. Your heart changes. You want to be Christ-like. You are offended by the things that offend God, while loving the sinners around you. You are transformed into a new person. In verse 5 of our focus verse Jesus tells us that we will persist unless we repent. Repentance is a very important topic. Don't ignore it! Jesus says your salvation depends on it.
Godspeace!
For more information regarding how your financial support can help, please click here.