PHILIPPIANS 1-2: DAY 176 JOURNEY THROUGH THE BIBLE IN A YEAR
June 25, 2023
PHILIPPIANS 1-2
DAY 176 JOURNEY THROUGH THE BIBLE IN A YEAR
Click here for the reading
Focus Verses For Today: Philippians 2:5-11
Today we journey through the first two chapters of the Book of Philippians.
Ask God for His understanding of Philippians 1 and 2. Read chapters 1 and 2 of Philippians. Let's journey!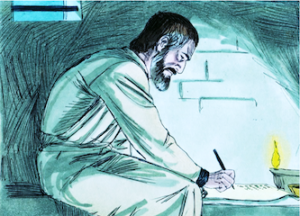 Philippians 1-2: After founding the church at Philippi the apostle Paul found himself being persecuted and incarcerated. Yet his letter to the church at Philippi (Philippians), begins with gentle words of encouragement, urging the church at Philippi to be of like mind and to rejoice in all things. Regardless of circumstance, move forward undertaking all things in the spirit of the Gospel without grumbling. (Philippians 1:1-2:30)
Our focus verses for today:
5 In your relationships with one another, have the same mindset as Christ Jesus:
6 Who, being in very nature God,
    did not consider equality with God something to be used to his own advantage;
7 rather, he made himself nothing
    by taking the very nature[b] of a servant,
    being made in human likeness.
8 And being found in appearance as a man,
    he humbled himself
    by becoming obedient to death—
        even death on a cross!
9 Therefore God exalted him to the highest place
    and gave him the name that is above every name,
10 that at the name of Jesus every knee should bow,
    in heaven and on earth and under the earth,
11 and every tongue acknowledge that Jesus Christ is Lord,
    to the glory of God the Father.
(Philippians 2:5-11, NIV, underline added)
Focus especially on the underlined portion of our focus verses for today. The Apostle Paul was quick to point out that Jesus did not have to accept the punishment which awaited Him here. He did not have to die the death of a criminal on the cross so that our sins would be forgiven. Jesus loves God the Father. Jesus loves us. Jesus had to die for us to defeat sin. Jesus had to die for us for our sins to be blotted out. Our sin debt to God the Father was blotted out through the blood of Jesus. Death, eternal separation from God, is the only penalty acceptable to God our Heavenly Father for sin.
Jesus became man. Jesus lived a sinless life. Jesus died on the cross to defeat the hopelessness of sinful people. Jesus gave up everything to serve His Father. Jesus gave up everything because He loves us. Jesus suffered unimaginable pain – paying our sin debt – because He loves us. Have you shared the Gospel lately?
Godspeace!
For more information regarding how your financial support can help, please click here.