LUKE 15-16: DAY 182 JOURNEY THROUGH THE BIBLE IN A YEAR
July 1, 2023
LUKE 15-16
DAY 182 JOURNEY THROUGH THE BIBLE IN A YEAR
Click here for the reading
Focus Verse For Today: Luke 16:13
Today, during our journey through Luke 15-16, we shall examine some parables of Jesus.
Ask God for His understanding of Luke 15-16. Read Luke 15-16. Let's journey!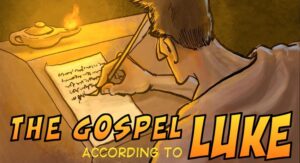 Luke 15-16: Our journey today takes us through a series of Jesus' parables that speak of the joy God and all in heaven experience when a sinner repents. Look at Luke 15:7,  "I tell you that in the same way there will be more rejoicing in heaven over one sinner who repents than over ninety-nine righteous persons who do not need to repent." (Red letter NIV) Repentance brings joy, not only to God but to all in heaven. The series of parables in today's reading describes God's and the heavenly community's joy for the repentant sinner. These parables of Jesus also ask us to examine what we value the most in life. God will not accept second position to anything. (Luke 15:1-16:31)
Our focus verse for today:
13 "No one can serve two masters. Either you will hate the one and love the other, or you will be devoted to the one and despise the other. You cannot serve both God and money." (Luke 16:13, NIV)
Will you overlook sin to acquire money, or status, or fame, or recognition? The way this question is answered should matter to you! Does your life reflect the answer your answer? The ultimate goal of a Christian's life should be to please God in all we do. Everything! Does the money you have exclusively serve self? Does the way you manage your money, great or small, reflect God's will?
Godspeace!
For more information regarding how your financial support can help, please click here.