2 KINGS 1-5: DAY 185 JOURNEY THROUGH THE BIBLE IN A YEAR
July 4, 2023
2 KINGS 1-5
DAY 185 JOURNEY THROUGH THE BIBLE IN A YEAR
Click here for the reading
Focus Verse For Today: 2 Kings 2:13-14
Today we begin our journey through 2 Kings 1-5. The focus of these first 5 chapters isn't on kings; it is on the transition from the prophet Elijah to the prophet Elisha.
Ask God for His understanding of 2 Kings 1-5. Read 2 Kings 1-5. Let's journey!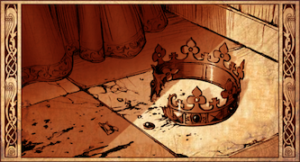 2 Kings 1-5: Our reading today focuses on Elijah being taken to heaven and his understudy, Elisha assuming Elijah's role as chief prophet of Israel. These chapters include stories of Elisha counseling kings, restoring life, healing leprosy, and providing financial provisions. The most important element of Elisha's ministry is that what he prophesied came to pass. These chapters also share the struggle that Gehazi, Elisha's servant had with sin. (2 Kings 1:1-5:27)
Our focus verses for today:
Elisha then picked up Elijah's cloak that had fallen from him and went back and stood on the bank of the Jordan. 14 He took the cloak that had fallen from Elijah and struck the water with it. "Where now is the Lord, the God of Elijah?" he asked. When he struck the water, it divided to the right and to the left, and he crossed over.
(2 Kings 2:13-14, NIV)
In chapter 2 verse 9b, Elisha, responding to Elijah's request of what he could do for Elisha, asked for a double portion of Elijah's spirit. The request appears to have caught Elijah by surprise. Elisha's request reveals many things. It reveals Elisha's desire to serve God fully. It is also a request that allows Elisha to understand his role among the other prophets. The events depicted in our focus verse demonstrate God's revelation to Elisha and the other prophets that Elisha was the chief prophet of all of Israel. That Elisha had in fact replaced Elijah in every way. A fact clearly demonstrated throughout chapters 2-5 of 2 Kings.
Happy Independence Day U.S.A.!!
Godspeace!
For more information regarding how your financial support can help, please click here.