Sermon on the Mount – Love Your Enemies
Love Your Enemies
Love for Enemies
43 "You have heard that it was said, 'Love your neighbor and hate your enemy.' 44 But I tell you, love your enemies and pray for those who persecute you, 45 that you may be children of your Father in heaven. He causes his sun to rise on the evil and the good, and sends rain on the righteous and the unrighteous. 46 If you love those who love you, what reward will you get? Are not even the tax collectors doing that? 47 And if you greet only your own people, what are you doing more than others? Do not even pagans do that? 48 Be perfect, therefore, as your heavenly Father is perfect.  (Matthew 5:43-48, NIV)
When disaster strikes, what is your reaction? For some, it depends on whom the disaster struck. In the past several years, we have seen that far too many people in the world believe it is acceptable to celebrate the hardships, downfall, and even deaths of people determined to be the enemy. When disaster strikes, our reaction should not depend upon the people affected. Our reaction should be the same, no matter who is affected.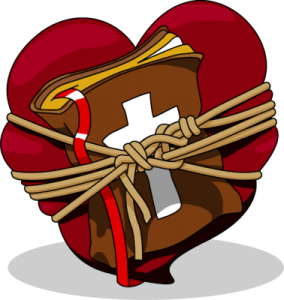 In Leviticus 19:18b, God instructs the Israelites to "…love your neighbor as yourself…" Between God giving that instruction through Moses, and the time Jesus began His earthly ministry, the Jewish religious leaders had added on the phrase "…and hate your enemy." This is contrary to God's teachings, as He never tells us to hold hatred in our hearts.
In fact, in Proverbs, we are instructed "Do not gloat when your enemy falls;  when they stumble, do not let your heart rejoice," (24:17, NIV) and "if your enemy is hungry, give him food to eat; if he is thirsty, give him water to drink." (25:21, NIV). Such teachings, written by a man given incredible wisdom by the Lord God, go contrary to the teachings of Jewish religious leaders. Jesus, in His response, builds upon what is written in the book of Proverbs.
God provides for all people, no matter if they stand with Him or against Him. Sometimes those who stand against Him receive rich earthy blessings. Sometimes, it is the strongest followers of the Lord that receive the harshest earthly persecution. And sometimes it is the opposite. As Jesus teaches, we are to treat everyone with love. It is part of what separates children of the Lord from others. It is easy to love those who treat us kindly. But it is much, much hardened to love those who treat us rudely.
But what would life be like if God treated us as we all are: enemies of Him. Through sin, we are all enemies of God. It is only through accepting the gift of salvation from Jesus Christ that we become children of God. If God treated us as His enemies, there would be no salvation. Jesus would never have come to earth to die for our sins. His love for us is perfect. We never know where a person is on their journey to becoming a child of God, but we should be helping all upon their path. As children of God, we cannot hold hatred in our hearts. We should want everyone to one day celebrate with us in the throne room of Heaven.
Jesus calls upon us to love our enemies as we love our friends. He calls upon us to "be perfect, therefore, as your heavenly Father is perfect." An impossible task, but one we should never stop striving for, for "with God, all things are possible." (Matthew 19:26b, NIV)
For more information regarding how your financial support can help, please click here.