TITUS 1-3: DAY 253 JOURNEY THROUGH THE BIBLE IN A YEAR
September 10, 2023
TITUS 1-3
DAY 253 JOURNEY THROUGH THE BIBLE IN A YEAR
Click here for the reading
Focus Verse For Today: Titus 3:1-2, 9-11
Our journey through the Bible passes through the entirety of the book of Titus. Paul is giving instructions to Titus, who is on the island of Crete, helping a newly established church grow.
Ask the Lord for His understanding of Titus 1-3. Read Titus 1-3. Let's journey!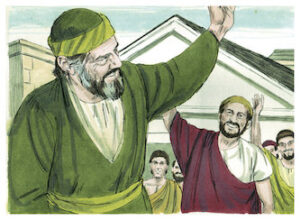 Titus 1-3: Titus has been left on the island of Crete to help minister to a newly established church. Paul starts his letter as he starts all of his letters before outlining the task left to Titus. Titus is instructed on how each group in the church is to be taught, and to always set an example by his words and actions. Paul provides some final words of advice, reminding Titus of why they do what they do, before ending the letter with some personal remarks. (Titus 1:1-3:15)
Our focus verses for today:
Remind the people to be subject to rulers and authorities, to be obedient, to be ready to do whatever is good, 2 to slander no one, to be peaceable and considerate, and always to be gentle toward everyone.
9 But avoid foolish controversies and genealogies and arguments and quarrels about the law, because these are unprofitable and useless. 10 Warn a divisive person once, and then warn them a second time. After that, have nothing to do with them. 11 You may be sure that such people are warped and sinful; they are self-condemned.
(Titus, 3:1-2, 9-11, NIV)
Some people discuss in good faith. Some people argue for the sake of arguing. It is important and necessary to be able to recognize the difference. The first set of focus verses today, remind us of how we are to treat others. The second set of verses show us that there are also things we should avoid. These verses, however, do not negate the first set of verses. How do you treat others? Is there an area, or perhaps someone, in your life that you need to step back, step away from?
Godspeace!
For more information regarding how your financial support can help, please click here.