2 TIMOTHY 3-4: DAY 246 JOURNEY THROUGH THE BIBLE IN A YEAR
September 3, 2023
2 TIMOTHY 3-4
DAY 246 JOURNEY THROUGH THE BIBLE IN A YEAR
Click here for the reading
Focus Verses For Today: 2 Timothy 4:3-4
Our journey through the Bible passes through 2 Timothy 3-4 today, to conclude the book of 2 Timothy.
Ask the Lord for His understanding of 2 Timothy 3-4. Read 2 Timothy 3-4. Let's journey!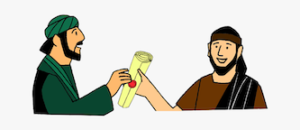 2 Timothy 3-4: Our journey today, concerns itself, primarily, with people who want a relationship with God but want a relationship on their own terms. It doesn't work that way. It concludes with the Apostle Paul speaking to the lonely road a true believer followers. Disliked by those who don't share your belief, abandoned by "fair weather" friends when things get tough. (2 Timothy 3:1-4:22)
Our focus verses for today:
3 For the time will come when people will not put up with sound doctrine. Instead, to suit their own desires, they will gather around them a great number of teachers to say what their itching ears want to hear. 4 They will turn their ears away from the truth and turn aside to myths.
(2 Timothy 4:3-4, NIV)
What should a person seeking a church home look for? They should seek a church that proclaims daily the Biblical truth: no matter what the cost. We should live our lives according to the Scripture. Sin cannot be changed by the words of a man or woman coming from the pulpit. Seeking a church where the message conforms to God's word is one of the most important decisions you will make in your life. Divorce is sin. Why – God says so! Adultery is sin. Why – God says so! Gossip is sin. Why – God says so! The Bible is closed to revision. It is the true word of God. Jesus came into this world so that our sins may be forgiven, not to grant a license to unbridled sin. Jesus warns,  "Do not think that I have come to abolish the Law or the Prophets; I have not come to abolish them but to fulfill them. 18 For truly I tell you, until heaven and earth disappear, not the smallest letter, not the least stroke of a pen, will by any means disappear from the Law until everything is accomplished. 19 Therefore anyone who sets aside one of the least of these commands and teaches others accordingly will be called least in the kingdom of heaven, but whoever practices and teaches these commands will be called great in the kingdom of heaven. 20 For I tell you that unless your righteousness surpasses that of the Pharisees and the teachers of the law, you will certainly not enter the kingdom of heaven." (Matthew 5:17-20, NIV)
Godspeace!
For more information regarding how your financial support can help, please click here.