ZEPHANIAH 1-3: DAY 307 JOURNEY THROUGH THE BIBLE IN A YEAR
November 3, 2023
ZEPHANIAH 1-3
DAY 307 JOURNEY THROUGH THE BIBLE IN A YEAR
Click here for the reading
Focus Verse For Today: Zephaniah 1:12
Today, we both begin and conclude our journey through the book of Zephaniah. Zephaniah was a prophet who was descended from King Hezekiah and prophesied during the time of King Josiah, who attempted to turn Judah from their evil ways.
Ask the Lord for His understanding of Zephaniah 1-3. Read Zephaniah 1-3. Let's journey!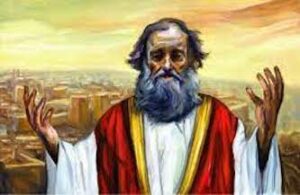 Zephaniah 1-3: Zephaniah is a prophet descended from King Hezekiah. He is a peer to the royal family and elites of the time. The prophecy that he gave could have resulted in lost friendships and division with his family. Zephaniah, like many of the other minor prophets, was warning the Israelites to repent and return to the Lord, or face their destruction. Zephaniah also gave a message of hope, that the Lord would restore Israel and its people. He ends his book with a reminder that his prophecy, his words are given by the Lord. (Zephaniah 1:1-3:20)
Our focus verse for today:
At that time I will search Jerusalem with lamps
    and punish those who are complacent,
    who are like wine left on its dregs,
who think, 'The Lord will do nothing,
    either good or bad.'
(Zephaniah 1:12, NIV)
The key word in this verse is "complacent." Dr. David Jeremiah, in his introduction to the book of Zephaniah in his study Bible, explains the verse in this way: "The dictionary defines complacency as 'a feeling of quiet pleasure or security, often while unaware of some potential danger or defect; a smug satisfaction with an existing condition.'" Dr. Jeremiah further explains: "People in the once-devout City of David were 'complacent' and had convinced themselves that the Lord would not intervene regardless of how they acted…. If we have placed our security in any source other than our relationship with Christ, then we are living a lie – and were are not secure at all."
Think of the world. Are we secure today? Where is our trust placed? Where do we turn in times of trouble? Think of yourself, your life. Are you secure? Where is your trust placed? Where do you turn in times of trouble?
Godspeace!
For more information regarding how your financial support can help, please click here.