1 PETER 1-3: DAY 309 JOURNEY THROUGH THE BIBLE IN A YEAR
November 5, 2023
1 PETER 1-3
DAY 309 JOURNEY THROUGH THE BIBLE IN A YEAR
Click here for the reading
Focus Verses For Today: 1 Peter 1:13-14
Today, we begin our journey through the book of 1 Peter. This letter, written by the Apostle Peter, was addressed to Christians in the northern part of Asia Minor. Like many letters in the New Testament, Peter was writing this letter as encouragement to Christians who were facing persecution. 

Before reading, stop and pray, asking that the Lord provide understanding of 1 Peter 1-3. Read 1 Peter 1-3. Let's journey!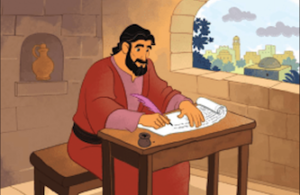 1 Peter 1-3: Peter opens with a greeting, praising God for the gift of salvation. As followers of Christ, we are called to imitate the actions of Jesus and throw off sin. We should not give in to the desires of the world, but we should show respect to all, as an example of the love of God. Husbands and wives in marriages where the spouse does not believe in God should still be treated as the Lord instructs a spouse to be treated. Additionally, Peter reminds us that we are to treat all with love, even those who unjustly accuse us, reminding the readers how Christ suffered for us. (1 Peter 1:1-3:22)
Our focus verses for today:
13 Therefore, with minds that are alert and fully sober, set your hope on the grace to be brought to you when Jesus Christ is revealed at his coming. 14 As obedient children, do not conform to the evil desires you had when you lived in ignorance.
(1 Peter 1:13-14, NIV)
Discipline is an important part of living a God-pleasing life. When we become believers, we are to no longer give in to sinful desires and temptations offered by those who would lead us into sin – desires and temptations we may once have embraced. Stepping away from that life requires discipline. Refocusing our life, to live it for the Lord, requires discipline. Minds that are alert and fully sober… focusing our thoughts on the Lord, this requires discipline. Are you disciplined in the Lord?
Godspeace!
For more information regarding how your financial support can help, please click here.