HAGGAI 1-2: DAY 314 JOURNEY THROUGH THE BIBLE IN A YEAR
November 11, 2023
HAGGAI 1-2
DAY 314 JOURNEY THROUGH THE BIBLE IN A YEAR
Click here for the reading
Focus Verses For Today: Haggai 2:3-5
Today, we both begin and conclude our journey through the book of Haggai. Haggai was a prophet who prophesied to the remanent who returned to Jerusalem after it had been destroyed. Haggai reminded the people of the importance of putting the Lord first.
Ask the Lord for His understanding of Haggai 1-2. Read Haggai 1-2. Let's journey!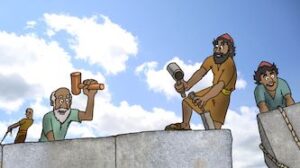 Haggai 1-2: When the Israelites returned to the destroyed city of Jerusalem, they first set about restoring the house of the Lord. However, their neighbors were unhappy with their progress and actions, eventually causing the Israelites to stop building for 16 years. Haggai comes at the end of these 16 years, pointing out to the Israelites how their own houses have been completed, yet God's house remains in ruins. The Israelites were letting their own desires come before the Lord, therefore, their lives were unfulfilled and unsatisfied. Haggai assures the Israelites that although the temple may not be as majestic as the one built by Solomon, the Lord will be with them all the same. (Haggai 1:1-2:23)
Our focus verses for today:
3 'Who of you is left who saw this house in its former glory? How does it look to you now? Does it not seem to you like nothing? 4 But now be strong, Zerubbabel,' declares the Lord. 'Be strong, Joshua son of Jozadak, the high priest. Be strong, all you people of the land,' declares the Lord, 'and work. For I am with you,' declares the Lord Almighty. 5 'This is what I covenanted with you when you came out of Egypt. And my Spirit remains among you. Do not fear.'
(Haggai 2:3-5, NIV)
Have you ever become discouraged, like the Israelites in this passage, because you think something isn't good enough? The Lord, through Haggai, reminds the people that they are working for the Lord, and their focus should be on Him. How can you apply that to your life? To your struggles?
Godspeace!
For more information regarding how your financial support can help, please click here.