ZECHARIAH 1-7: DAY 321 JOURNEY THROUGH THE BIBLE IN A YEAR
November 17, 2023
ZECHARIAH 1-7
DAY 321 JOURNEY THROUGH THE BIBLE IN A YEAR
Click here for the reading
Focus Verses For Today: Zechariah 3:1-5
Today, we begin our journey through the book of Zechariah. Zechariah was one of three who was both a prophet and a priest (the other two being Jeremiah and Ezekiel). Zechariah prophesied after the return of the Israelites from Babylon. Zechariah reminds the Israelites that despite their exile in Babylon, God would fulfill the promises He had made to them.
Ask the Lord for His understanding of Zechariah 1-7. Read Zechariah 1-7. Let's journey!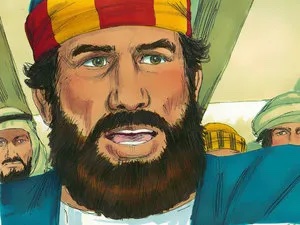 Zechariah 1-7: The first six chapters of Zechariah contain eight visions that were given to Zechariah. Each vision has the same pattern, Zechariah is shown the vision and then it is cryptically explained by the angel accompanying him. All the visions show that God is in control. In chapter seven, Zechariah addresses a question of the people regarding fasting. The Lord, through Zechariah, asks the people to examine their hearts. (Zechariah 1:1-7:14)
Our focus verses for today:
 Then he showed me Joshua the high priest standing before the angel of the Lord, and Satan standing at his right side to accuse him. 2 The Lord said to Satan, "The Lord rebuke you, Satan! The Lord, who has chosen Jerusalem, rebuke you! Is not this man a burning stick snatched from the fire?"
3 Now Joshua was dressed in filthy clothes as he stood before the angel. 4 The angel said to those who were standing before him, "Take off his filthy clothes."
Then he said to Joshua, "See, I have taken away your sin, and I will put fine garments on you."
5 Then I said, "Put a clean turban on his head." So they put a clean turban on his head and clothed him, while the angel of the Lord stood by.
(Zechariah 3:1-5, NIV)
In Exodus 28, special instructions are given for the clothing priests are to wear, including the high priest. Elsewhere throughout the books of Moses, these garments are referred to as holy. A high priest would not appear before the Lord in dirty and stained clothing. In this vision, the "filthy clothes" represent sin, all sin. The Lord taking away the dirty clothing and giving the high priest new, clean clothing foretells of Jesus coming to take away the sins of the world, including our sins! Have you allowed the Lord to clothe you in new garments?
Godspeace!
For more information regarding how your financial support can help, please click here.