PHILIPPIANS 3-4: DAY 183 JOURNEY THROUGH THE BIBLE IN A YEAR
July 2, 2023
PHILIPPIANS 3-4
DAY 183 JOURNEY THROUGH THE BIBLE IN A YEAR
Click here for the reading
Focus Verses For Today: Philippians 4:6-7
Today we conclude the book of Philippians, with the Apostle Paul exhorting the people of the church at Philippi to forsake their petty disagreements, seeking contentment where they found agreement.
Ask God for His understanding of Philippians 3-4. Read Philippians 3-4. Let's journey!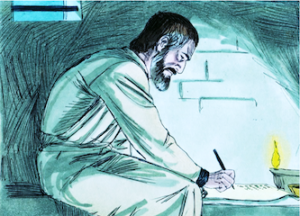 Philippians 3-4: The Apostle Paul exhorts the people of the church of Philippi to abandon the ways of the flesh by adopting a life dedicated to Jesus. (Philippians 3:1-4:23)
Our focus verses for today:
6 Do not be anxious about anything, but in every situation, by prayer and petition, with thanksgiving, present your requests to God. 7 And the peace of God, which transcends all understanding, will guard your hearts and your minds in Christ Jesus.
(Philippians 4:6-7, NIV)
Worry is sin. "Anxious," as referred to in today's verses, is another word for worry. Worry is doubting God's ability to deliver us from the circumstance we find ourselves in. Surrender our concerns to the Lord, accepting the peace He promises. (Only we can reject His peace by lingering in worry) Then go about our day, listening for God's direction as we work through whatever attempted to separate us from God, allowing God to direct us through it.
Godspeace!
For more information regarding how your financial support can help, please click here.