1 CHRONICLES 1-4: Day 220 JOURNEY THROUGH THE BIBLE IN A YEAR
August 8, 2023
1 CHRONICLES 1-4
Day 220 JOURNEY THROUGH THE BIBLE IN A YEAR
Click here for the reading
Focus Verse For Today: 1 Chronicles 1:1
Today we begin our journey through the book of 1 Chronicles.
Before starting today's journey, take some time to pray, asking God to reveal His wisdom for 1 Chronicles 1-4. Read 1 Chronicles 1-4. Let's journey!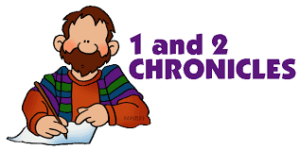 1 Chronicles 1-4: The Israelites, after being in captivity for 70 years, have been released by the Persians. Those who return to Jerusalem find a city destroyed by the Babylonians, without a familiar landmark. Those who returned, most likely, never set eyes on Jerusalem at its glory. In the first chapters of 1 Chronicles, the chronicler is using genealogy to connect the returning captives to who they are. Notice the chronicler starts his genealogy with Adam, God's first created. (1 Chronicles 1:1-4:43)
Our focus verse for today:
Adam, Seth, Enosh,
(1 Chronicles 1:1, NIV)
Can you imagine the shock the Israelites experienced when they saw the city, Jerusalem, so wonderfully described by their relatives to them, in ruin? It would be safe to assume despair set in. The chronicler chose challenge over despair, by pointing out who they are and where they had come from. They were in fact heirs of the first created by God, Adam. What do you think when life presses against you from all sides? Do you despair or do you recall you are heir to Adam, first created by God – making you a child of God.
Godspeace!
For more information regarding how your financial support can help, please click here.