1 TIMOTHY 4-6: DAY 232 JOURNEY THROUGH THE BIBLE IN A YEAR
August 20, 2023
1 TIMOTHY 4-6
DAY 232 JOURNEY THROUGH THE BIBLE IN A YEAR
Click here for the reading
Focus Verse For Today: 1 Timothy 6:6
Today we conclude our journey through 1 Timothy with chapters 4-6.
Ask the Lord for His understanding of 1 Timothy 4-6. Read 1 Timothy 4-6. Let's journey!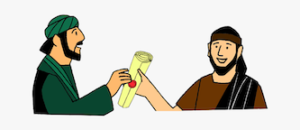 1 Timothy 4-6: Today's reading begins with the Apostle Paul writing about people abandoning their faith in later days. Could the Apostle Paul be talking about now? He goes on to instruct Timothy about the care of widows, elders, and slaves. He concludes by warning Timothy to be on guard against false teachers and the love of money, ending this letter to Timothy by admonishing him to protect his faith. (1 Timothy 4:1-6:21)
Our focus verse for today:
 But godliness with contentment is great gain.
(1 Timothy 6:6, NIV)
Contentment may no longer exist in the world. The world, as our news slider reveals, is a world of discontent fueled to act with sin-filled intentions. Could our discontentment be fueled by the love of money: shorthand for idol worship? Love of money isn't limited to currency, it is fueled by luxuries that add little quality of life and are outdated or out of fashion shortly after their introduction. What drives you? Is it watching all the new movies? The latest car? Current fashion trend? The latest restaurant in town? Would we be doing the things we do to afford these pleasures if Jesus were looking over our shoulder? (FYI He is!) Does the desire for stuff take away from developing a deep, intimate relationship with the Creator: our Provider? There is nothing wrong with having nice things or excelling at what we do – God directs us to do our best; not to be obsessed. What fills your mind as you close the day? Concern over the conquest or peace knowing you are in the will of God? At the end of our lives, the memories of what we accomplished here good or bad will be forever erased from those who have chosen contentment through Jesus Christ. Paul brings 1 Timothy to a close with these verses, Turn away from godless chatter and the opposing ideas of what is falsely called knowledge, 21 which some have professed and in so doing have departed from the faith. (1 Timothy 6:20b-21, NIV)
Godspeace!
For more information regarding how your financial support can help, please click here.