PHILEMON 1: DAY 260 JOURNEY THROUGH THE BIBLE IN A YEAR
September 17, 2023
PHILEMON 1
DAY 260 JOURNEY THROUGH THE BIBLE IN A YEAR
Click here for the reading
Focus Verses For Today: Philemon 1:8-10
Today's journey contains a short letter written by Paul, who was under house arrest in Rome, on behalf of Onesimus, a slave who had escaped from his master and had recently become a Christian, to Philemon, the master and affluent Christian leader in the Colossian church.
Take a moment and pray, asking for understanding of today's reading. Read Philemon. Let's journey!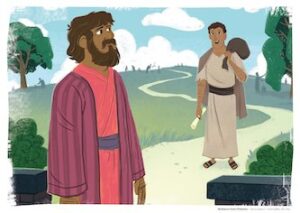 Philemon 1: Paul establishes himself, as he does in most letters, before establishing his personal connection with Philemon. Paul explains the situation to Philemon regarding Onesimus, and what has happened to him since he fled from Philemon. Paul also indicates his desired outcome for Onesimus, before concluding the letter with one more plea and sending greetings to those whom he knew. (Philemon 1:1-25)
Our focus verse for today:
8 Therefore, although in Christ I could be bold and order you to do what you ought to do, 9 yet I prefer to appeal to you on the basis of love. It is as none other than Paul—an old man and now also a prisoner of Christ Jesus— 10 that I appeal to you for my son Onesimus, who became my son while I was in chains. (Philemon 1:8-10, NIV)
Paul could have ordered Philemon to do the right thing, ensuring the outcome Paul wanted to happen, would happen. But Paul didn't order it. He requested. He appealed to Philemon, essentially asking, what would Jesus want you to do? At times, we all find ourselves in a position of leadership, where we can influence the decision of another. Do you order people to make what you view as the right choice? Or do you appeal to them, as Paul appealed to Philemon? There is a time for both. Weigh the options carefully.
Godspeace!
For more information regarding how your financial support can help, please click here.