2 CHRONICLES 11-15: DAY 276 JOURNEY THROUGH THE BIBLE IN A YEAR
October 3, 2023
2 CHRONICLES 11-15
DAY 276 JOURNEY THROUGH THE BIBLE IN A YEAR
Click here for the reading
Focus Verses For Today: 2 Chronicles 13:14-16
Our journey today looks at the reigns of Rehoboam, Abijah, and Asa, as kings of Judah. We also see Jeroboam, king of Israel.
Take a moment and pray, asking for understanding of today's reading. Read 2 Chronicles 11-15. Let's journey!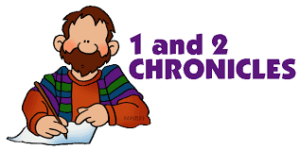 2 Chronicles 11-15: The nation of Israel is divided into the southern kingdom, Judah, and the northern kingdom, Israel. We begin with the reign of Rehoboam, son of Solomon, who ruled over Judah, containing the tribes of Judah and Benjamin. Rehoboam attempts to attack and reunite the two kingdoms, however God, through a prophet tells him to not attack fellow Israelites. Although Rehoboam listens, he still leads the nation of Judah into idolatry, earning the wrath of the Lord. The Lord's temple is ransacked and many of the kingdom's riches plundered by Egypt. Rehoboam is followed by his son Abijah. Abijah battled against Jeroboam, king of Israel, and won. When Abijah died, he was followed by his son Asa, who, unlike his father, sought the will of the Lord. Asa attempted to return the people of Judah to worship the Lord. (2 Chronicles 11:1-15:19)
Our focus verses for today:
14 Judah turned and saw that they were being attacked at both front and rear. Then they cried out to the Lord. The priests blew their trumpets 15 and the men of Judah raised the battle cry. At the sound of their battle cry, God routed Jeroboam and all Israel before Abijah and Judah. 16 The Israelites fled before Judah, and God delivered them into their hands.
(2 Chronicles 13:14-16, NIV)
The men of Judah were vastly outnumbered, yet they prevailed. The reason why is important. They relied upon the Lord. God hears us when we cry out to Him, just as He heard the men of Judah. And He will deliver us! It may not always be easy – the men of Judah still had to fight! – but crying out to the Lord will bring deliverance. In your times of need, do you trust in yourself or the Lord?
Godspeace!
For more information regarding how your financial support can help, please click here.