2 CHRONICLES 1-5: DAY 262 JOURNEY THROUGH THE BIBLE IN A YEAR
September 19, 2023
2 CHRONICLES 1-5
DAY 262 JOURNEY THROUGH THE BIBLE IN A YEAR
Click here for the reading
Focus Verses For Today: 2 Chronicles 3:8-13
Today's journey begins with the reign of King Solomon, son of King David, and his construction of the Temple.
Take a moment and pray, asking for understanding of today's reading. Read 2 Chronicles 1-5. Let's journey!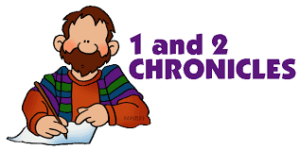 2 Chronicles 1-5: If you remember from last week, shortly before the death of King David, Solomon is crowned King. Our journey begins today, with the beginning of his reign. Solomon was blessed by the Lord, who gave him a gift of his choosing. King Solomon quickly begins the building of the temple for the Lord, using the connections and preparations made by his father. Great detail is recorded of how everything was made. Today's reading ends with the ark being brought to the temple by the Levites. (2 Chronicles 1:1-5:14)
Our focus verse for today:
8 He built the Most Holy Place, its length corresponding to the width of the temple—twenty cubits long and twenty cubits wide. He overlaid the inside with six hundred talents of fine gold. 9 The gold nails weighed fifty shekels. He also overlaid the upper parts with gold.
10 For the Most Holy Place he made a pair of sculptured cherubim and overlaid them with gold. 11 The total wingspan of the cherubim was twenty cubits. One wing of the first cherub was five cubits long and touched the temple wall, while its other wing, also five cubits long, touched the wing of the other cherub. 12 Similarly one wing of the second cherub was five cubits long and touched the other temple wall, and its other wing, also five cubits long, touched the wing of the first cherub. 13 The wings of these cherubim extended twenty cubits. They stood on their feet, facing the main hall.
(2 Chronicles 3:8-13, NIV)
To most, these measurements mean nothing, for we do not understand them. The importance of these verses, and the surrounding chapters, comes from knowing and understanding why it was recorded. The books of Chronicles were written for the small band of Israelites who were finally allowed to return to their homeland, which was in ruin. Most had probably heard the stories of the famed Temple of Solomon, but they had never seen it. When they finally saw what was left…well…it was hard to imagine what it had once been. The author is attempting to bring the temple to life for those who read and heard this description. As part of the larger book, the author is also reminding the Israelites what life is like when blessed by the Lord, and what happens when they reject the Lord for false idols.
Godspeace!
For more information regarding how your financial support can help, please click here.