JONAH 1-4: DAY 279 JOURNEY THROUGH THE BIBLE IN A YEAR
October 6, 2023
JONAH 1-4
DAY 279 JOURNEY THROUGH THE BIBLE IN A YEAR
Click here for the reading
Focus Verses For Today: Jonah 4:1-2
Today, we both begin and conclude our journey through the book of Jonah, a prophet unlike any other prophet recorded.
Ask the Lord for His understanding of Jonah 1-4. Read Jonah 1-4. Let's journey!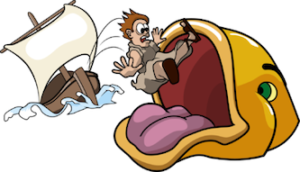 Jonah 1-4: Jonah is an interesting prophet. He runs from the Lord, going in the exact opposite direction he was instructed to go. His flight brought others into danger. It also reveals God's compassion and willingness to forgive us for our transgressions. Jonah eventually does as the Lord asks and goes to Nineveh, the capital of Assyria, enemies of the Israelites. Jonah shares God's warning and becomes upset when the people listen to him! Jonah questions the compassion of the Lord, who in turn, questions Jonah. Unlike most books of prophecy, Jonah does not end with a message of hope, rather it ends with the Lord posing a question (Jonah 1:1-4:11)
Our focus verses for today:
But to Jonah this seemed very wrong, and he became angry. 2 He prayed to the Lord, "Isn't this what I said, Lord, when I was still at home? That is what I tried to forestall by fleeing to Tarshish. I knew that you are a gracious and compassionate God, slow to anger and abounding in love, a God who relents from sending calamity. 3 Now, Lord, take away my life, for it is better for me to die than to live."
4 But the Lord replied, "Is it right for you to be angry?"
(Jonah 4:1-4, NIV)
Jonah was not happy about the work for which the Lord had called him. Due to Jonah's message, Jonah's hated enemies were able to repent and be spared the Lord's wrath. Jonah knew God's compassion – he had just experienced for himself firsthand! But Jonah could not understand how the Lord would want to spare a people that had caused the suffering of the Israelites. Like Jonah, we do not always understand God's plan. To us, like Jonah, it can seem "very wrong." But we do not know all that the Lord knows, nor can we comprehend why the Lord does what He does. When we are angry or view a situation as "very wrong," we must remember the question posed by the Lord: "Is it right for you to be angry?" What is your answer?
Godspeace!
For more information regarding how your financial support can help, please click here.