ACTS 9-10: DAY 301 JOURNEY THROUGH THE BIBLE IN A YEAR
October 28, 2023
ACTS 9-10
DAY 301 JOURNEY THROUGH THE BIBLE IN A YEAR
Click here for the reading
Focus Verses For Today: Acts 10:24-26
Today, we continue our journey through the book of Acts, with a look at Saul and Peter.
Ask the Lord for His understanding of Acts 9-10. Read Acts 9-10. Let's journey!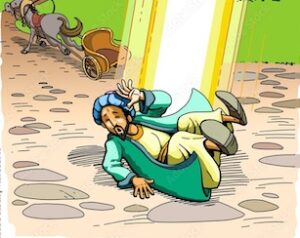 Acts 9-10: Saul's conversion is quite dramatic and, no doubt, confusing for everyone who knew him and knew of him. The Lord called him for a purpose – to spread the good news of salvation to the Gentiles. While Saul learned and grew in his faith, Peter continued traveling and performing miraculous acts, including raising a woman from the dead. Peter is given a vision, changing the interaction between Jews and Gentiles forever. Jews and Gentiles were no longer divided; both were made clean by the Lord. In addition, many of the rituals and requirements given to Moses were no longer binding, as Jesus was the perfect sacrifice, after which no other sacrifice needs to be made. (Acts 9:1-10:48)
Our focus verses for today:
24 The following day he [Peter] arrived in Caesarea. Cornelius was expecting them and had called together his relatives and close friends. 25 As Peter entered the house, Cornelius met him and fell at his feet in reverence. 26 But Peter made him get up. "Stand up," he said, "I am only a man myself."
(Acts 10:24-26, NIV)
Peter was human. He had his flaws. We saw many of those flaws when reading about his time with Jesus, and, surely, the mistakes that he made then stayed with him throughout his life. Peter grew from those mistakes though, and became a leader within the church. He is an example to admire, yet, he would be the first to tell us that his change was only possible because of Jesus Christ. We can look to him for encouragement, as an example, but our worship belongs to the Lord, the reason such change is possible.
Godspeace!
For more information regarding how your financial support can help, please click here.