LUKE 17-18: DAY 189 JOURNEY THROUGH THE BIBLE IN A YEAR
July 8, 2023
LUKE 17-18
DAY 189 JOURNEY THROUGH THE BIBLE IN A YEAR
Click here for the reading
Focus Verses For Today: Luke 17:3b-4
Today, we continue our journey through the book of Luke. Dr. Luke continues his gospel by sharing parables Jesus told.
Ask God for His understanding of Luke 17-18. Read Luke 17-18. Let's journey!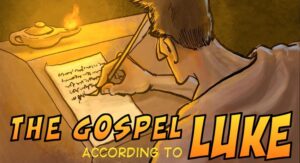 Luke 17-18: It was extremely difficult to select focus verses for today. There is so much to learn! Jesus warns against causing others to sin. Jesus encourages us to exercise our faith-we have all been given sufficient faith. Jesus heals ten men with leprosy, but only one truly recognized what he received. Jesus teaches about His coming kingdom. Jesus teaches the importance of prayer. Jesus teaches about sincere faith resulting in dependence on God. Jesus teaches about the difficulty great wealth may create for genuine belief. Jesus heals a blind man and warns of His impending death. (Luke 12:1-18:43)
Our focus verses for today:
If your brother or sister sins against you, rebuke them; and if they repent, forgive them. 4 Even if they sin against you seven times in a day and seven times come back to you saying 'I repent,' you must forgive them."
(Luke 17:3b-4, NIV)
Forgiveness may be hard; however, it is possible when God is allowed to work through you. Forgiveness is a staple of the Christian faith – a foundation block. As we have journeyed through the Old Testament, we repeatedly see God forgiving the Israelites who, like us, continually find their faith derailed by the allure of sin. God sent His only Son, Jesus, to endure the punishment we earned for our sins so we will never have to suffer that punishment because we, provided we accept it, have been forgiven – redeemed. Forgiveness is not an option. It is fundamental to the Christian life. In Matthew 6:14-15, Jesus teaches us,
"14 For if you forgive other people when they sin against you, your heavenly Father will also forgive you. 15 But if you do not forgive others their sins, your Father will not forgive your sins." 
If you are burdened by an unforgiving heart seek God, seek God's help: diligently! He is with you, right now, ready to help you.
Godspeace!
For more information regarding how your financial support can help, please click here.