2 CHRONICLES 25-28: DAY 297 JOURNEY THROUGH THE BIBLE IN A YEAR
October 24, 2023
2 CHRONICLES 25-28
DAY 297 JOURNEY THROUGH THE BIBLE IN A YEAR
Click here for the reading
Focus Verses For Today: 2 Chronicles 28:22-23
Our journey today looks at the reigns of Amaziah, Uzziah, Jotham, and Ahaz in Judah.
Take a moment and pray, asking for understanding of today's reading.  Read 2 Chronicles 25-28. Let's journey!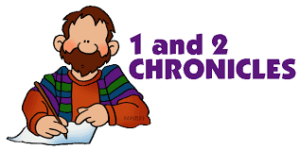 2 Chronicles 25-28: Amaziah started his reign following the Lord and His instructions, only to fall away and begin worshipping false idols, eventually leading to his death. Amaziah's son Uzziah succeeded him. Uzziah followed the word of the Lord, listening to His prophets, and was successful in his military campaigns. Uzziah became prideful, which led to his downfall. Uzziah was succeeded by his son Jotham, who also followed the Lord and became powerful. Ahaz succeeded his father Jotham. Ahaz did not follow the Lord, instead worshipping false gods. Ahaz barred the doors of the temple of the Lord and insisted upon the worship of false gods. Our journey today ends with the death of Ahaz. (2 Chronicles 25:1-28:27)
Our focus verses for today:
22 In his time of trouble King Ahaz became even more unfaithful to the Lord. 23 He offered sacrifices to the gods of Damascus, who had defeated him; for he thought, "Since the gods of the kings of Aram have helped them, I will sacrifice to them so they will help me." But they were his downfall and the downfall of all Israel.
(2 Chronicles 28:22-23, NIV)
When life becomes difficult, it can be easy to blame the Lord. You can look at others who do not follow the Lord and see them appearing to succeed. Difficult times present us with two choices: seek out the Lord all the more, or abandon Him. Ahaz abandoned the Lord. It led to his downfall. Which do you choose? For it is a choice we make every day.
Godspeace!
For more information regarding how your financial support can help, please click here.