1 PETER 4-5: DAY 316 JOURNEY THROUGH THE BIBLE IN A YEAR
November 12, 2023
1 PETER 4-5
DAY 316 JOURNEY THROUGH THE BIBLE IN A YEAR
Click here for the reading
Focus Verses For Today: 1 Peter 4:3-4
Today, we conclude our journey through the book of 1 Peter. Peter addresses suffering.
Before reading, stop and pray, asking that the Lord provide understanding of 1 Peter 4-5. Read 1 Peter 4-5. Let's journey!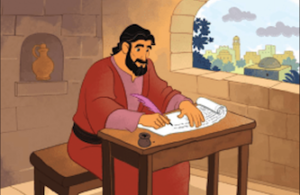 1 Peter 4-5: After accepting Christ as your Lord and Savior, the changes made to your life may surprise others. No matter what suffering you may experience, continue treating them, and everyone you meet, with love. Elders should encourage and help a flock to grow. All should be humble. Peter ends his letter with some personal words. (1 Peter 4:1-5:14)
Our focus verses for today:
3 For you have spent enough time in the past doing what pagans choose to do—living in debauchery, lust, drunkenness, orgies, carousing and detestable idolatry. 4 They are surprised that you do not join them in their reckless, wild living, and they heap abuse on you.
(1 Peter 4:3-4, NIV)
Today's focus verses conjure up images of Ancient Roman parties (or perhaps college toga parties). The image isn't wrong, for it was written during that time! For those in Peter's time, after accepting Christ, the changes in a person's life were drastic. You go from participating in these normal activities to shunning them and speaking against them. Their friends were shocked at the new behavior, laughed at the resistance to everyday, normal behavior, and resentful of being judged. Not much has changed, as many continue to look down upon those who seek to uphold a moral life in accordance with God's word. After accepting Christ, change should be noticeable in a person's life. Think back on your life. What has changed? What needs change? What is holding you back?
Godspeace!
For more information regarding how your financial support can help, please click here.