1 CHRONICLES 5-9: DAY 227 JOURNEY THROUGH THE BIBLE IN A YEAR
August 15, 2023
1 CHRONICLES 5-9
DAY 227 JOURNEY THROUGH THE BIBLE IN A YEAR
Click here for the reading
Focus Verse For Today: 1 Chronicles 9:2
Our journey today through 1 Chronicles 5-9, takes a chronological detour at chapter 9.
Ask God for His understanding of chapters 5-9 of 1 Chronicles. Read 1 Chronicles 5-9. Let's journey!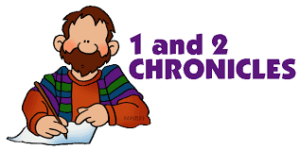 1 Chronicles 5-9: The reading for today can be divided into two sections. The first is chapters 5:1-9:1. These chapters share the genealogy of the 12 tribes of Israel with us giving a brief description of their skills. The genealogy ends at the time period the people of Israel are entering the promised land. Chapter 9:2-34 describes the earliest return of the people of Israel from Babylonian captivity. (1 Chronicles 5:1-9:44)
Our focus verse for today:
Now the first to resettle on their own property in their own towns were some Israelites, priests, Levites and temple servants.
(1 Chronicles 9:2, NIV)
The Chronicler takes the reader to Saul, the first King of Israel, and his sons, and skips over the entire history of the northern and southern kingdoms, and takes us to the return of the Israelites to Jerusalem from Babylonian captivity. The first to return were those who delivered worship services and maintained the temple for worship. God's chosen people understood the importance of worshiping their deliverer. Unfortunately, man has a habit of forgetting the oppression that reminded him of his need for God, leading him to return to worldly ways.
Godspeace!
For more information regarding how your financial support can help, please click here.