2 CHRONICLES 6-10: DAY 269 JOURNEY THROUGH THE BIBLE IN A YEAR
September 26, 2023
2 CHRONICLES 6-10
DAY 269 JOURNEY THROUGH THE BIBLE IN A YEAR
Click here for the reading
Focus Verses For Today: 2 Chronicles 7:13-14
Our journey today continues through to the end of King Solomon's reign, and the beginning of King Rehoboam's reign.
Take a moment and pray, asking for understanding of today's reading. Read 2 Chronicles 6-10. Let's journey!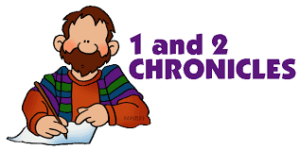 2 Chronicles 6-10: Our journey today begins with the continuation of the Ark being brought into the temple. Solomon gives praise and offers a prayer, dedicating the temple that has been built as a permanent dwelling of the Lord. The Israelites are home; no more wandering. Following the dedication, the Lord speaks with King Solomon, providing guidance, instruction, and a warning. A record of Solomon's other activities as king is recorded, including his meeting with the Queen of Sheba and a record of many of his riches. Following King Solomon's death, Rehoboam becomes king, and we begin to see how and why Israel fell away from the Lord. (2 Chronicles 6:1-10:19)
Our focus verses for today:
13 "When I shut up the heavens so that there is no rain, or command locusts to devour the land or send a plague among my people, 14 if my people, who are called by my name, will humble themselves and pray and seek my face and turn from their wicked ways, then I will hear from heaven, and I will forgive their sin and will heal their land.
(2 Chronicles 7:13-14, NIV)
The Lord is (again) giving a warning of what will happen should the Israelites forsake Him. And (again) He provides instructions on how to end the suffering brought on by their actions. There is no shortage of warnings given across the generations of what will happen if the Israelites turn from the Lord. But the Lord also provides hope – the hope of restoration when they return to Him. The world today is lost; it has rejected the Lord. The Lord's instructions remain the same: "humble themselves and pray and seek my face and turn from their wicked ways." Have you humbled yourself before the Lord?
Godspeace!
For more information regarding how your financial support can help, please click here.